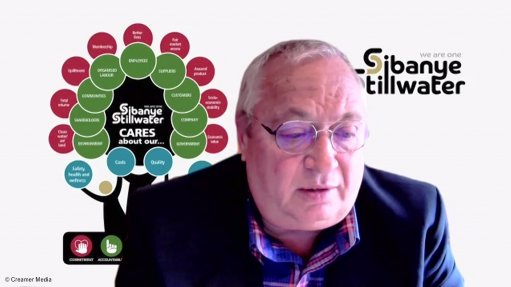 Sibanye-Stillwater CEO Neal Froneman
Photo by: Creamer Media
JOHANNESBURG (miningweekly.com) – Gold, platinum and green metals company Sibanye-Stillwater is moving towards the embrace of radical transparency when it comes to public disclosure on matters relating to tailings facilities against the backdrop of 230 significant tailings failures having taken place globally.
Sibanye-Stillwater CEO Neal Froneman described public disclosure on tailings facilities as a very sensitive issue owing to communities invariably establishing human settlements around these facilities.
Sibanye-Stillwater has 38 tailings facilities in its gold and platinum group metal (PGM) mines in South Africa and the US, 29% of them dormant and requiring maintenance and management.
"The risks have to be managed and disclosed in a very open and transparent way and we are moving to what we call radical transparency because we are so confident in what we are doing we are happy to provide full disclosure," said Froneman.
Speaking virtually at this week's University of the Witwatersrand DigiMine event covered by Mining Weekly, Froneman said digital systems were being used to facilitate environmental management performance and governance of its tailings systems.
He said a geographic information system-based tailings management platform with consolidated environmental and performance data had been proven up.
This had been further supported by a digital auditing platform and the inclusion of live phreatic surface monitoring to keep the company acutely aware of the moisture within the tailings facilities.
He described the benefit of the solution as being enormous.
"We now have visualisation and management of key data. We have automated alerts if there are movements or increased moisture levels and we have live internal reporting," he said.
The future ambitions are to expand the platform capability to cover the company's global tailings footprint.
"We are a growing organisation so as we grow, we will incorporate this in our new acquisitions and assets.
"We want to roll out advanced phreatic surface monitoring on all our South African tailings facilities and identify and trial new data generating technology," Froneman added.
The destructive collapse of the large iron-ore slimes dam at the Samarco mine, in Brazil, put pressure on mining companies the world over to apply international best practice standards in upgrading their tailings facilities.
The International Council on Mining and Metals (ICMM) has launched two new resources to support continual improvement in the safe and transparent management of tailings facilities.
These include conformance protocols for the existing global industry standard on tailings management and the tailings management good practice guide, which represents the culmination of work by ICMM member companies and external experts.
The catastrophic tailings dam collapse at Vale's Córrego de Feijão mine, in Brumadinho, Brazil, motivated the United Nations Environment Programme (UNEP), ICMM and Principles for Responsible Investment (PRI) to convene the Global Tailings Review to develop an international standard for the safer management of tailings storage facilities. The ICMM launched the standard in partnership with the UNEP and PRI on August 5, 2020.