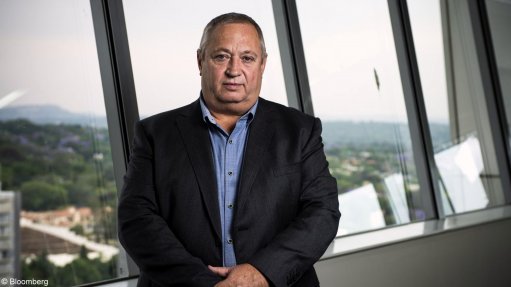 Sibanye-Stillwater CEO Neal Froneman says the investment offers the opportunity for further geographic diversification in an attractive mining destination.
Precious metals miner Sibanye-Stillwater has entered the battery metals sector through an investment in lithium firm Keliber, which has a goal of being the first European company producing high-purity, battery-grade lithium hydroxide from its own ore.
The South Africa-based major would make a €30-million investment in Keliber, earning it a 30% equity shareholding, the companies announced on Tuesday.
"In line with our strategic objective of entering the battery metals industry, lithium is viewed as one of the core metals to benefit from the significant growth forecast for the electric vehicle sector," said Sibanye-Stillwater CEO Neal Froneman in a statement.
Together with a further €10-million issuance to existing shareholders, Keliber stated that it had secured bridge financing of €40-million to advance its €340-million (about R6-billion) lithium project in central Ostrobothnia, Finland, with an aim of starting production in three years' time.
"We are delighted to have reached this agreement with Sibanye-Stillwater. This agreement responds to the fast-growing need of lithium in the era of electric transport, renewable energy and electrification of consumer products," said Keliber CEO Hannu Hautala.
Sibanye-Stillwater's and existing shareholders' investment would significantly accelerate the Keliber project.
The bridge financing would enable work for permitting, additional piloting, needed engineering and recruiting the right talent. An update of the definitive feasibility study for the lithium project is scheduled in the first quarter of 2022.
Based on a feasibility study completed in 2019 and improved in 2020, Keliber currently has 9.3-million tonnes of ore reserves, sufficient for more than 13 years of operation.
The mine would produce an average of 15 000 t/y of battery grade lithium hydroxide. The project includes the development of a chemical plant in Kokkola, about 50 km from the mining area.
Future lithium hydroxide production has not been committed to any offtake party.
When in production from 2024 on, Keliber is expected to employ 150 to 200 people for various positions.
Keliber aims to secure project financing by the second half of 2022. The project financing would include both a debt and equity component.
Europe is rapidly becoming a leading hub for the manufacture of batteries for EVs and Keliber's location in Finland enables efficient transport of lithium hydroxide to European customers, Sibanye-Stillwater points out.
The Finnish Minerals Group (FMG), which manages the Finnish State's mining industry shareholdings, is the largest shareholder in Keliber and is focused on creating partnerships and co-investments with a view to developing the Finnish battery EV supply chain.
"The investment offers the opportunity for further geographic diversification in an attractive mining destination and the opportunity to forge long-term relationships with established lithium industry players that have a shared vision of supplying the electric vehicle supply chain. Together with FMG we have committed to make this a showcase ESG operation," said Froneman.