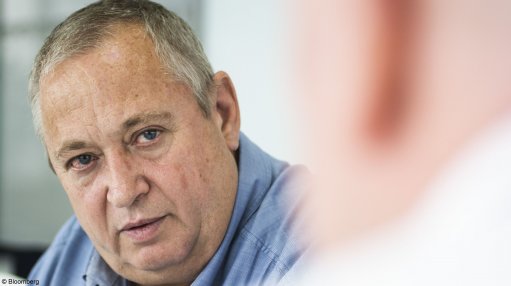 Sibanye-Stillwater CEO Neal Froneman
Johannesburg- and New York-listed miner Sibanye-Stillwater is investing $490-million in a lithium/boron mining project in Nevada, US, as it steps up its presence in the battery materials supply chain.
Sibanye-Stillwater on Thursday announced that it would establish a joint venture (JV) with Australia-listed ioneer to develop the Rhyolite Ridge project.
This is the precious metals major's second lithium transaction and a third transaction in the battery metals sector, having preciously struck deals to acquire a stake in the owner of a lithium project in Finland and to buy a nickel hydrometallurgical processing facility in France.
"Rhyolilte Ridge is a world-class lithium project and we recognise its strategic value, with the potential to become the largest lithium mine in the US," CEO Neal Froneman said.
In terms of the agreement, Sibanye-Stillwater would contribute $490-million for a 50% interest in the JV, with ioneer to maintain a 50% interest and retain operatorship. ioneer has also agreed to provide Sibanye-Stillwater with an option to participate in 50% of the North Basin, upon the election of Sibanye-Stillwater to contribute an additional $50-million.
Sibanye-Stillwater also agreed to a strategic placement of $70-million of ioneer's shares at the developer's ten-day volume-weighted average price of September 15. The proceeds from the placement would be used towards development capital requirements, medium-term working capital needs and to progress long-lead items to minimise time to production.
"With a strong strategic partner in place, we can now look to finalise the debt financing for the project and move towards construction. We are confident in the alignment of our companies. Our partnership with Sibanye-Stillwater will allow ioneer to unlock the tremendous, long-term value of Rhyolite Ridge," said ioneer executive chairperson James Calaway.
The 2020 definitive feasibility study states that the project will require a capital investment of $785-million.
Rhyolite Ridge will produce an average of 20 600 t/y of lithium carbonate, converting in the fourth year of operation to 22 000 t/y of battery-grade lithium hydroxide and 174 000 t/y of boric acid over a 26-year mine life. The all-in sustaining cost for the project is $2 510/t, placing it in the bottom of the global cost curve.
ioneer recently signed an offtake agreement to supply lithium carbonate to a unit of South Korean battery maker Ecopro.
The Rhyolite Ridge project was dealt a blow in August when the US Fish and Wildlife Service said that it would propose listing a rare flower that grows in the vicinity of the mine as an endangered species.
ioneer's stock fell sharply on Thursday, trading 17% down at A$0.62 a share.