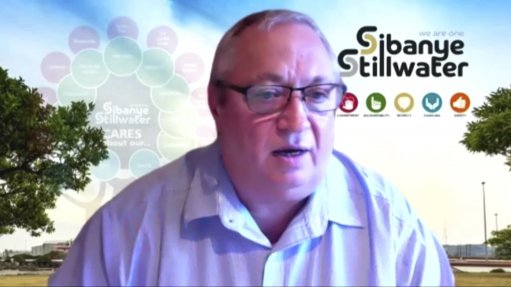 Sibanye-Stillwater CEO Neal Froneman.
Photo by: Creamer Media
JOHANNESBURG (miningweekly.com) – Platinum group metals (PGM) producer Sibanye-Stillwater is assessing the generation of green hydrogen on its mine sites to power PGM-catalysed hydrogen fuel cell mobility, it said on Thursday, when the Johannesburg- and New York-listed company foresaw good exposure for itself to the hydrogen economy and a minimum 20% renewable energy penetration at its operations.
After presenting a super-duper set of financial results that saw half-year profit rocket sky-high to R29.3-billion for the six months to December 31, CEO Neal Froneman answered questions put to him by Mining Weekly on the green hydrogen generation at the company's mine sites and the use of that green hydrogen to power PGM-catalysed fuel cell vehicles at those sites.
"The answer to all of your questions is probably yes, but we have another nine months to a year of work ahead of us to get to a position where we can actually outline in more detail our hydrogen strategy.
"Certainly, we think the hydrogen economy is going to be very exciting. It offers a number of opportunities but we're still assessing them," Froneman said.
Regarding the 50 MW photovoltaic solar power plant that has been under development by the company for some years now on the West Wits, next to Libanon, he said: "That was originally 150 MW but because of the uncertainty around wheeling and some of those issues, we are going to rather keep it at 50 MW, and then we're looking at a 200 MW plant in the Rustenburg area, for our Rustenburg operation," he said.
On when the hydrogen economy's impact on PGMs demand would likely reach a significant level, he said: "We're starting to see demand forecasts being impacted by the hydrogen economy in the second half of this decade. I think that's conservative. I think we're going to see that moving forward. There's no doubt that the hydrogen economy is going to be very disruptive and something that we want to be associated with," Froneman said.
"We are a leading producer and recycler of green metals that are fighting climate change. We do see the hydrogen economy developing very quickly. But for now, the PGMs play a very important in removing noxious gases and hydrocarbons from automobile exhausts.
"The future technologies that we hope to be involved with are in green hydrogen, PGM-based proton exchange membrane technology, which we believe is well-suited to using intermittent renewable energy feed, and then, of course, hydrogen fuel cells, which we know are efficient and environmentally friendly, and will become the alternative source of power for many things, but primarily automobiles," said Froneman, adding that Sibanye-Stillwater is the largest independent producer of platinum, iridium and ruthenium metals that are involved in the hydrogen economy. "So, we're very well-positioned to benefit from the future hydrogen economy."
ZERO-CARBON FOOTPRINT BY 2040
In the results booklet that Sibanye-Stillwater released to the market, the company expressed its ambition to achieve a zero carbon footprint for the group by 2040, and would ensure that stakeholders were kept appraised of its progress on a regular basis.
In line with its commitment to environmental, social and corporate governance (ESG) excellence, a comprehensive review of the group environmental and energy footprint had been undertaken, which indicates that it should be able to achieve carbon neutrality, in spite of its deep-level, energy-intensive origins and dependence on coal-fired power from the South African State utility Eskom.
It aims to decarbonise by:
advocating for an enabling electricity supply industry in South Africa, supportive of decarbonisation;
having direct representation on the Energy Intensive Users Group, Business Unity South Africa's electricity policy task team, and other sectoral forums;
bringing about energy and decarbonisation governance through policy, strategy, target setting and performance management; and
increasing renewables as part of the company's energy mix.
Approved investment in the period was R6.8-billion on South African PGM and gold projects, securing operational sustainability and 7 000 jobs.