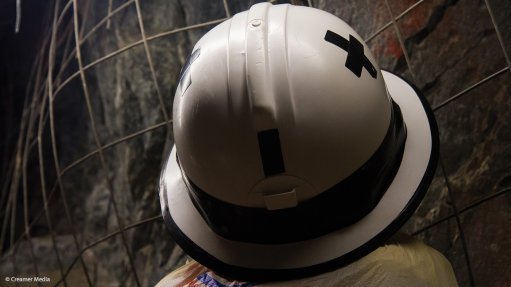 Photo by: Creamer Media
Following a spate of fatalities at its South African mines this year, Sibanye-Stillwater has committed to funding an independent study, to be conducted by a visiting academic at the University of the Witwatersrand (Wits), with the aim of developing practical recommendations for enhancing risk management effectiveness at Sibanye's operations.
This work, which forms part of a wider study on the origins and impact of the Mine Health and Safety Act (MHSA), will be performed through the Centre for Sustainability in Mining and Industry.
Further, JSE-listed Sibanye has also appointed Dr Kobus de Jager as corporate head of safety, with a mandate to review and enhance the company's safety management.
De Jager, who holds a visiting adjunct professorship at Wits, has over 40 years' experience in mine safety with academic and practical credentials in leadership and behavioural safety.
"Resolving our recent safety challenges is our most critical imperative. We cannot accept that lives are lost in extracting minerals from the earth, and we will leave no stone unturned in restoring a safety performance that meets our expectations.
"Mining at Sibanye-Stillwater can, and must, continue to provide economic activity to a substantial part of South Africa's population without causing unacceptable harm," Sibanye CEO Neal Froneman said in a statement issued on Wednesday.
Since February, 20 employees have lost their lives in nine incidents at Sibanye's South African operations, with the company stating that "this substantial regression in safety is unacceptable.
Two of the incidents resulted in the death of 12 of the 20 employees, with the latest incident, on June 11, involving the death of five employees at the Kloof Ikamva mine, in Gauteng.
Seven employees were also killed after becoming trapped at the company's Masakhane mine, in May, following a seismic event.
Sibanye on Wednesday said a thorough investigation into the Ikamva incident will be undertaken by the company's management, the Department of Mineral Resources and other stakeholders to determine the cause of the incident.
"We will ensure that any remedial actions that may result from the investigation will be implemented in order to prevent similar incidents in future," the miner stated.
Operations at Ikamva will only resume once all work places have been audited, it added.
Mineral Resources Minister Gwede Mantashe noted, at a media briefing at the weekend, that the acting Chief Inspector of Mines was compiling a report on the safety incidents reported at Sibanye's operations this year and that appropriate action would be taken.
Meanwhile, Sibanye also urged employees to make use of formal grievance procedures and an anonymous tip-off system to report incidents of being forced to work if it is unsafe or if they are victimised for refusing to work if it is unsafe.
Sibanye stressed that it supports and promotes adherence to Section 23 of the MHSA, which allows employees to withdraw from working areas that are unsafe.
"Any supervisor who has been found to force workers to work in unsafe conditions is
liable to disciplinary action," it stated.