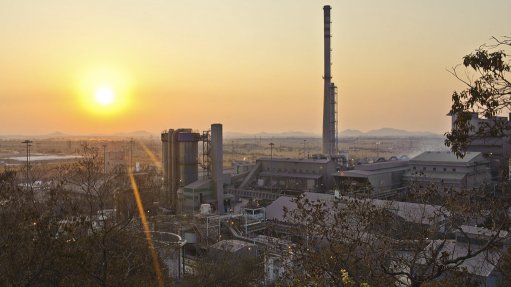 Marikana PGM mine
After acquiring platinum producer Lonmin's operations in 2019, diversified miner Sibanye-Stillwater continues to contribute to reparations for those community members who were affected by the violent wage-related protests near the then-Lonmin-operated Marikana platinum group metals (PGMs) mine between August 14 and September 18, 2012, which claimed the lives of 40 miners, two police officers and two Lonmin security guards.
Since 2019, Sibanye has been actively engaging with various stakeholders in Marikana to "create a new legacy through healing and hope in collaboration with all shareholders", in an effort to bridge the divide between the area's mining operations and the people who live there. This led to the establishment of the Marikana Renewal programme, which was launched in 2020 by Archbishop Thabo Makgoba.
The heart of the Marikana Renewal programme is what has been called the Letsema Process – Letsema is a Setswana word that means "voluntarily working together".
Social facilitation organisation ReimagineSA has been contracted to facilitate engagement and drive the Letsama Process.
MEMORIAL PARK
The Marikana Renewal programme held its first pitso – a traditional Sotho gathering – in May, which was attended by 94 family members of the deceased, during which it was emphasised that the lives of those striking miners who were killed in the conflict were "honoured" by engaging their families to help co-create a path toward constructing a memorial park.
The memorial park, which Sibanye group manager properties for South Africa PGMs Fritz Jooste said was still in the conceptual stages, will be situated in between the two koppies where the majority of the deaths occurred on August 16, 2012, when hundreds of strikers armed with knobkerries, pangas and guns stormed police lines and were shot down after non-lethal riot control methods failed.
Speaking to members of the media on July 14 on the site where the violence erupted ten years ago, Jooste said the memorial park was being conceived as possibly an amphitheatre, with walkways, indigenous landscaping and a remembrance monument erected in honour of the 44 people who lost their lives in the clash.
"We would like for people to visit the area. Previously, Lonmin's proposal was to almost commercialise it, which we don't think is appropriate," Jooste said.
He explained that the reason the memorial park has taken so long to erect is partly because Covid-19 broke out shortly after Sibanye acquired Lonmin's assets, partly because negotiations with the Bapo Ba Mogale landowners had to be concluded, and partly because multi-stakeholder engagement had to be achieved.
With the first pitso now concluded, and two more scheduled for the remainder of this year, Jooste said Sibanye was planning for the implementation of the memorial to begin next year.
SUPPORT TO THE BEREAVED
In 2014, 23 widows and 21 family members accepted offers of employment by Lonmin, most of whom Sibanye continues to employ. Closure counselling also continues to be offered to widows and their beneficiaries.
Meanwhile, Sibanye continues to offer legal support for the widows and families of the miners killed who have not received any compensation from the State, by engaging with the relevant authorities with a view to pursuing compensation.
Sibanye is also building houses for the bereaved, comprised of housing requested by some of the widows during a meeting with Sibanye CEO Neal Froneman in 2019.
As such, Sibanye committed to providing 16 houses to widows who had not received any of the 34 houses built by a trust fund set up by the Association of Mineworkers and Construction Union in 2016.
Sibanye managed to build eight of those houses before Covid-19 resulted in delays to the programme, Jooste said.
Eight houses are currently being built in locations that were selected by widows, including in the Eastern Cape, Mpumalanga, North West, the Northern Cape and Lesotho.
Of the eight houses that have been built, seven have been renovated and one has been sold.
Sibanye also continues to support the 1608 Memorial Trust, which was originally founded by Lonmin in 2013 to support the families of those who died in 2012.
The trust, which is governed by three registered trustees, meets on a quarterly basis.
The trust supports 139 beneficiaries, ranging in age from nine to 41 years old, who come from across the country, as well as Lesotho and Swaziland.
To date, R64.5-million has been contributed to the fund, averaging about R460 000 per beneficiary.
The fund has provided for the education of three postgraduate students – one of whom recently acquired a PhD – as well as 14 tertiary graduates. Currently, 25 sponsored learners are studying at tertiary institutions, while 46 are being funded through secondary school and 28 at primary school. To date, 15 have completed their schooling.
"The programmes we have been running in Marikana include corporate social investment and social and labour plan (SLP) projects. Like all SLPs, these contribute to social services and improved living conditions in communities around Marikana operations," Sibanye executive VP of stakeholder relations Thabisile Phumo explained.
She said the socioeconomic upliftment in Marikana is guided by three SLPs – Eastern Platinum (EPL), Western Platinum (WPL) and Pandora.
A Marikana economic renewal programme is also being piloted with partnerships confirmed with organisations such as Bapo Ba Mogale Development Trust, BeeAfrican, the Mineworkers Development Agency and Rand Mutual.
Several SLP projects were approved this year.
At WPL, these include the second phase construction of the Leokeng Secondary School and the Marikana Community Health Centre (CHC) clinic.
Moreover, additional support will be given towards the erection of high-mast lights, the support of local agribusinesses, implementation of stormwater management, and the refurbishment of road infrastructure to support small-scale sheep farmers.
At EPL, the new SLP projects include shearing sheds, the new Sonop Secondary School, installation of high-mast lights in six wards, the upgrading of Bapong and Wonderkop CHC sewage system, as well as the upgrading of Rhode School.
Meanwhile, Phumo said Sibanye was implementing a facilitated employee home ownership programme to support its employees to improve their housing conditions and meet their own accommodation aspirations and needs, with an emphasis on home ownership either at place of work or at place of origin.
In line with the special presidential package for the distressed mining towns programme in the platinum belt, as well as the upgrading of informal settlements programme, Sibanye and the Housing Development Agency have signed a delivery cooperation agreement to jointly implement housing initiatives in Marikana and surrounding areas.
In terms of this agreement, Sibanye will provide technical support, as well as bulk water and sanitation services in Marikana.
Phumo said Sibanye also aimed to create value for the community by creating more jobs. One example of this was Marikana K4, a world-class new PGMs project in the area, which the company said would sustain about 4 000 jobs and boost local economic development when it is up and running.
The project has begun development and production ramp-up, having announced the hoisting of its first ore in May. The K4 mine will produce about 250 000 oz of platinum, palladium rhodium and gold a year for about 50 years.
Another source of value for employees is the Lonplats profit participation scheme. In 2022, it delivered almost R700-million to the A, B and C grade participants in dividends and profit share from the 3.8% shareholding of EPL and WPL operations owned by a trust.
As a result, each employee received a before-tax amount of R39 625.47.