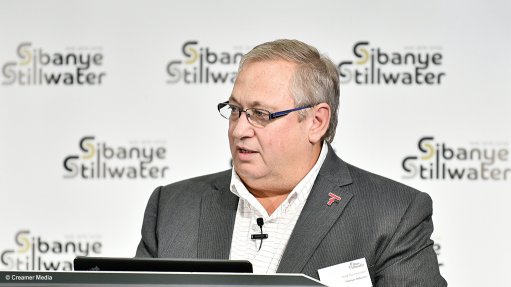 Sibanye-Stillwater CEO Neal Froneman.
Photo by: Creamer Media
JOHANNESBURG (miningweekly.com) – In its first power purchase agreement, platinum group metals, green metals and gold producer Sibanye-Stillwater has achieved financial close for an 89 MW wind energy project.
Under the terms of the 15-year agreement, a project consortium will fund, build, and operate the large wind farm, with construction expected to begin next month and commercial operation scheduled for early 2025.
"This marks our first major step in delivering over 550 MW of our renewable project portfolio and is a significant milestone in our journey to carbon neutrality by 2040," Sibanye-Stillwater CEO Neal Froneman stated in a media release to Mining Weekly.
The renewables project will not only play a pivotal role in reducing carbon emissions and mitigating climate change but also result in cost savings on electricity and provide energy security benefits for Sibanye-Stillwater's South Africa operations. Additionally, it will contribute to addressing the electricity challenges in South Africa.
"We look forward to bringing the project into operation," Froneman added.
By way of a wheeling agreement with State power utility Eskom, Castle Wind Farm, located near the town of De Aar in the Northern Cape, will generate the wind energy for supply to Sibanye-Stillwater's South Africa operations.
The project consortium consists of African Infrastructure Investment Managers, through its renewable energy project development and delivery platform, African Clean Energy Developments and Reatile Renewables.
A division of Old Mutual Alternative Investments, African Infrastructure Investment Managers has invested in the project through its domestic IDEAS infrastructure equity fund.
The multinational Sibanye-Stillwater mining and metals processing group, with a diverse portfolio of operations, projects and investments across five continents, is a global recycler of autocatalysts and has interests in mine tailings retreatment operations.
As a primary producer of platinum, palladium and rhodium and a top-tier gold producer, the Johannesburg- and New York-listed Sibanye produces and refines iridium and ruthenium, nickel, chrome, copper and cobalt.
The group has recently begun to build and diversify its asset portfolio into battery metals mining and processing and is increasing its presence in the circular economy by growing and diversifying its recycling and tailings reprocessing operations globally.