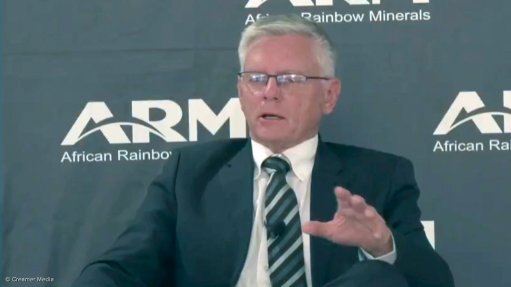 African Rainbow Minerals CEO Mike Schmidt.
Photo by: Creamer Media
JOHANNESBURG (miningweekly.com) – The large underground resource that remains at the shut Nkomati Nickel mine in Mpumalanga provides optionality depending on market conditions, says African Rainbow Minerals (ARM) CEO Mike Schmidt.
The Nkomati mine, located near Machadodorp, has been on care and maintenance since March as the openpit has reached the end of its economic life.
But a huge underground opportunity remains, says Schmidt, who was speaking during question time at ARM's presentation of record financial results, covered by Mining Weekly.
At a volume of around 200 000 t a month, its good grade and byproduct resplendent underground orebody would underpin a life-of-mine of about 15 to 20 years.
Nkomati's polymetallic orebody comes with a palladium-weighted platinum group metals content as well as high copper and cobalt byproduct credits.
"It would serve us well, so the question is what is the right trigger for us? I don't think we're far from the trigger price today. We need to see that it's sustainably achievable," says Schmidt.
Regarding capital requirements, Schmidt ventures that way under R2-billion would be required to ramp up and 36 months would be enough to achieve steady state.
"Where the high wall on the north-eastern side of the pit has stopped, you can access the underground with multi-portals and accordingly ramp up.
"The capital required there is very low and the ramp-up potential very fast. I think we could get up to nameplate within 36 months," says Schmidt.
The mine is a joint venture (JV) between ARM and Norilsk Nickel Africa and the Nkomati deposit, with disseminated copper/nickel sulphide ores, constitutes part of the Bushveld Complex. Nkomati comprises several orebodies, the key ones being a solid sulphide orebody with a high nickel content.
The deposit also contains a peridotite chromite mineralisation zone with a lower metal content versus the main mineral zone and a relatively high chromium content.
Total proven and probable reserves in the main mineralised zone (MMZ) and chromatic peridotite mineralised zone (PCMZ) as at June 30, 2019, were estimated at 6.79-million tonnes grading 0.30% nickel. MMZ stockpiles were estimated at 200 000 t grading 0.27% nickel. PCMZ stockpiles were estimated at 600 000 t at 0.19%.
Total mineral resources as at June 30, 2019, were estimated at 46.35-million tonnes grading 0.40% nickel, 0.13% copper, 0.02% cobalt and 0.97 g/t platinum, palladium, rhodium and gold.
Until the shut, the feedstock was processed at two concentrators.
The shut followed the JV partners agreeing to scale down production volumes and production ceased in February 2021.
The Nkomati underground mine was placed on care and maintenance in December 2015.