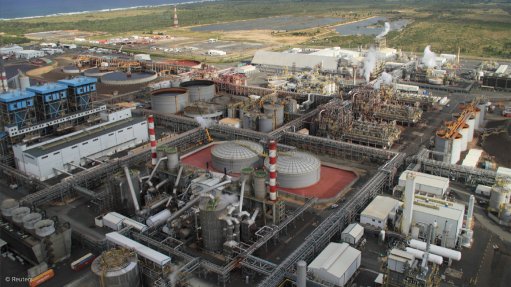 Ambatovy. Madagascar.
Photo by: Sherritt International Corp
TORONTO (miningweekly.com) – Diversified Canadian miner Sherritt International on Wednesday reported a first-quarter net loss, as a charge at its new Ambatovy nickel mine, in Madagascar, and financing costs related to a weakening Canadian currency impacted on its results.
The Toronto-based miner, which specialises in mining and refining nickel from lateritic ores at its operations in Canada, Cuba, and Madagascar, reported a first-quarter loss of C$48.2-million, or C$0.16 a share, compared with earnings of C$23.1-million, or C$0.08 a share.
Earnings were affected by the impact of higher financing outlay related to foreign exchange losses as a result of the weakening Canadian dollar against the US greenback and by depreciation, depletion, and amortisation being recognised at Ambatovy for the first time following the commercial production declaration in January, which totalled C$27.5-million for Sherritt's 40% share.
The Ambatovy joint venture (JV) is a vertically integrated nickel and cobalt mining, processing, refining and marketing JV between subsidiaries of Sherritt (40%), Sumitomo (27.5%), Korea Resources (27.5%), and SNC-Lavalin (5%). Sherritt is the operator of the facilities.
Revenue rose 13% year-on-year to C$120.9-million.
Despite the impact of lower nickel prices, which averaged $6.64/lb in the period, the adjusted earnings before interest, taxes, depreciation, and amortisation remained strong at C$54.9-million, or $0.18 a share. Adjusted operating cash flow for first-quarter 2014 was C$0.26 a share, compared with C$0.18 a share in the first quarter of 2013.
Once Canada's biggest thermal coal producer, Sherritt on Monday completed the C$946-million divesture of its Canadian coal business, which would allow it to focus on nickel and oil after years of weak demand and prices.
Sherritt is currently embroiled in a proxy battle with activist investor George Armoyan over the composition of the miner's board. Armoyan, through a variety of public and private companies he controls, including TSX-listed and Halifax-based investment company Clarke Inc, of which he is the CEO, and through personal holdings and positions held by members of his family, had secured voting control of about 5% of Sherritt's common shares.
However, corporate governance analysis and proxy voting firm Institutional Shareholder Services and Glass, Lewis & Co had recommended that shareholders support the incumbent board, noting that the dissident shareholder had not made a compelling case for change.
Sherritt's TSX-listed stock had appreciated by more than 25% from the start of the year, and on Wednesday traded around C$4.69 apiece.