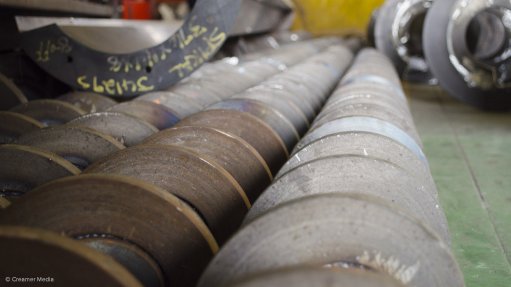 EFFORTLESS WORK Shaftless screw systems can handle aggressive materials with ease owing to the hardened materials used
Photo by: Victor Moolman
Materials handling solutions provider Spiral Tech Screw Conveyors expects to complete repairs to the triplex shaftless spiral conveyor systems at platinum miner Impala Platinum's (Implats') Impala mine, in Rustenburg, before the end of the year.
Spiral Tech technical sales representative Dawie Verster tells Mining Weekly that the repairs, which started on September 2, involve the mine's entire productivity line, which includes acid plants and granulators. The spiral conveyors under repair are from Boksburg-based Spiral Tech's U 500 line of screw conveyors.
Verster explains that the U 500 screw conveyors consist of three screws that combined have a maximum materials processing capacity of 18 m3/h to 365 m3/h.
"It is a very sturdy and robust screw conveyor on its own, but the triplex conveyor is specifically built to convey ore in the mining industry," he points out.
Novel Solution
The shaftless screw conveyor system offered by Spiral Tech has no hanger bearings or end bearings; is totally enclosed and, therefore, odourless and dustless; operates at lower speeds, therefore, enduring less wear and tear; and offers lower energy consumption compared with conventional spiral screw conveyor systems.

Verster notes that Spiral Tech screw conveyors are "unique" because, unlike conventional screw conveyors, they are designed specifically to handle bulk solids with high moisture content discharged from centrifuges, filter presses and mixers.
In most instances, these bulky and abrasive solids have the additional characteristic of being extremely sticky and, thus, tend to cling to the central pipe of a conventional shafted screw conveyor, he points out, adding that spiral screw conveyors do not have this central pipe and, instead, use the spiral shape of the conveyor to convey such difficult materials with ease.
Verster explains that coal is an easy product to convey with shaftless conveyors because it self-lubricates, giving it a slippery texture, highlighting, however, that, like shafted conveyors, screw conveyors still find sticky materials a challenge. In terms of liners, he recommends Domex 700, the most common liner used throughout the industry, owing to its durability, remarking that it is a "good wearing material".
Spiral Tech also uses high-density polyethylene (HDPE) liners and Bennox, which is commonly used as a strip liner, which is put in place as a wearing consumable before the outer trough is reached, but can also be used to fully line conveyor systems.
"The HDPE liner is very popular because it performs well in abrasive environments and, therefore, doesn't degrade as fast. It is mostly used in the chemicals industry to avoid the contamination related to the use of steel liners, which break down from abrasive and chemical reactions," says Verster.
Further, he notes that the strength and hardness of a spiral is critical to the long-term success of an installation. "For example, if you are conveying an abrasive bulk solid, you need a spiral that is extremely hard-wearing to reduce the amount of abrasion on the shaftless spiral."
Easy Maintenance
When dealing with the maintenance or repair of shafted conveyors, the entire conveyor unit will need to be removed and dismantled to attend to the problem.
"Shaftless conveyors, however, are the complete opposite, enabling maintenance technicians to directly access and address problem areas, owing to its modular design," he points out.
Each part of a shaftless screw conveyor can be removed piece by piece, Verster explains. Therefore, when repairing a shaftless screw conveyor you can leave the gearbox and motor in place to repair the screw, halving the time it takes to repair the conveyor system.
"A screw conveyor can be ordered in sections from 1 m up to 3 m. Therefore, should there be a problem with the conveyor, only the section giving you the problem needs replacing," he says.
Verster emphasises that there are Spiral Tech screw conveyors that have been operating without failure in South Africa for more than five years. However, this life expectancy can be reduced to two years when using a screw conveyor to transport exceptionally abrasive materials such as alloys.
As well as shaftless screw conveyor systems, Spiral Tech's product range includes live bottom systems, vertical conveyor systems, dewatering presses and grit classifiers.