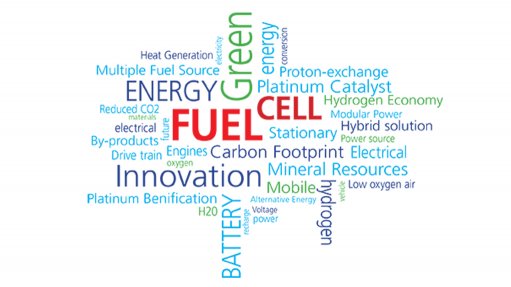 FUELING THE CLOUD Conversation around fuel cells continue in the hopes that a burst in uptake will be seen soon enough
Business development service provider PentaQuark Energy (PQE) technical head Nicola Kotze tells Mining Weekly that the company's continued involvement in the successful running of Minerals Council South Africa's installed and fully operational fuel cell is worth celebrating.
"PQE is exceptionally proud of its involvement in the maintenance and smooth running of the council's fuel cell and considers it to be a key demonstration plant for South African industry."
The fuel cell at the council is maintained by Kotze in collaboration with the fuel cell suppliers. This involves basic maintenance activities, such as air filter replacements, ensuring that the fuel cell's reliability is perpetuated and that gas quality and water quality are to the fuel cell's specifications.
Kotze also led the council's heat recovery project, which entailed harnessing and redistributing heat from the fuel cell to some areas of the building to provide low-cost heating.
"I troubleshoot any issues that may come up which, fortunately, are very few," she boasts.
She explains that different fuel cell technologies are suited to different applications and "it is a function of what you are trying to achieve with your solution".
Based on what is known about the available technological applications, for example, if a client wants to power a bus or a car, a proton-exchange membrane fuel cell (PEMFC) hybrid solution should be considered. PEMFCs are load-following, quick to start up and relatively small in terms of space constraints.
Should a client want to take a small factory off the grid, a phosphoric acid fuel cell (PAFC) would likely be a good solution – it all depends on the client's requirements and the economic comparison base for the client, she explains.
Meanwhile, as a locally operated fuel cell and alternative energy solutions provider, Kotze, who holds a master's degree in engineering and is subsequently one of South Africa's primary fully qualified fuel cell technologists, says PQE's offerings vary.
PQE focuses predominantly on projects where implementing fuel cells would be a solution, however, it encourages other alternative energy solutions if these promise to be more effective.
PQE's project development consulting services are not limited to alternative energy solutions either and it supports a range of industries.
"Our core vision is to be the innovative, trusted and delivery-focused provider of distributed and networked energy solutions, notably through collaborative partnerships that add value to all stakeholders on the continent, in the stationary fuel cell space and niche mobile."
PQE is involved in other projects, such as platinum producer Impala Platinum Refineries' fuel cell project in Springs, Gauteng. "Although the project is currently on hold, we do hope that it will come to fruition and become the largest, single site installation of natural gas fuel cells in the southern hemisphere," enthuses Kotze.
PQE hopes that local industry becomes more willing to adopt fuel cell technologies so that fuel cell manufacturing can be localised and, subsequently, a support industry for the technology can be established, she concludes.