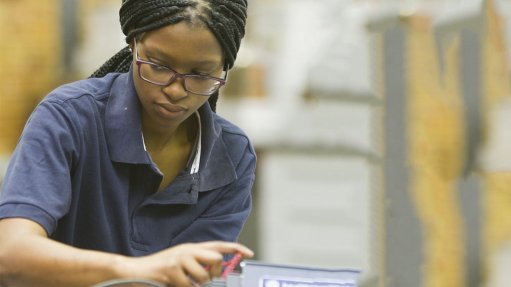 ZUKISWA MKHULISI The 24-year old has had a very different experience to most women in the mining industry, having received support and acknowledgement for her achievements
Hard work, practical experience and knowing the industry are key factors needed to succeed as a woman in the mining sector, 24-year-old workshop technician at specialist safety and monitoring solutions provider Monitech Zukiswa Mkhulisi tells Mining Weekly.
"Do well and prove your worth. It is not about being male or female, but about being skilled and knowledgeable in your field."
Mkhulisi, originally from Umzimkhulu, in KwaZulu-Natal, has been working at Monitech, based in Benoni, Gauteng, since September last year and says she has gained valuable experience to further her promising mining career. With a National Technical Certificate completed last year from technical vocational education and training institution Ekurhuleni West College, she is adding to her arsenal and studying electrical engineering – process and instrumentation, at higher education institution the University of South Africa (Unisa). As part of her Unisa degree, she recently passed mathematics with a distinction.
Meanwhile, her career at Monitech has seen Mkhulisi travel to Evansville
in Indiana, in the US, earlier this year for a five-day training course at mine safety technology expert Matrix. The training consisted of Matrix proximity detection systems and associated equipment, as well as assembly, testing and fault finding. She also attended a tour of the Matrix manufacturing plant.
The training course benefited Mkhulisi's career as she gained valuable experience and first-hand, in-depth training. Seeing the manufacturing process and meeting Matrix employees who work with Monitech was also an advantage, enthuses Mkhulisi. She adds that the trip has helped her gain greater insight into the process, instrumentation and machine monitoring side of mining, a niche field in which Mkhulisi intends to specialise.
Unlike many other women working in the mining industry, she has not had to deal with the same challenges. "Monitech and my colleagues have always made me feel welcome. Everyone in the organisation is helpful and supportive."
Mkhulisi is fortunate in this regard and comforted by the fact that she does not feel threatened in a male-dominated industry. Her positive experience of being a woman in mining can also potentially inspire young women wanting to start a career in the industry. It also means that mining is slowly transforming to treat women in the industry as the equals of their male counterparts.