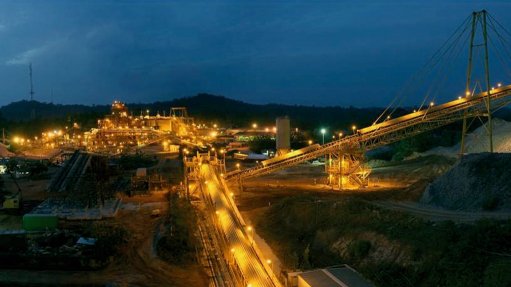 POWER PLANS Genser Energy should be in a position to meet the power supply needs of Gold Fields' Damang (pictured) and Tarkwa mines in Ghana by 2018
JSE-, NYSE- and SWX-listed gold producer Gold Fields has concluded a development agreement with the government of Ghana for both its Tarkwa and Damang mines, in Ghana, that will enable the company to operate in the country under stable fiscal conditions. The agreement, announced on March 29, includes a reduction in the corporate tax rate from 35% to 32.5% (effective March 17), while the royalty rate would change from a flat 5% of revenue to a sliding scale royalty based on the gold price (effective January 1, 2017). The term of the agreement is 11 years for Tarkwa and nine years for Damang, each renewable for an additional five years. As the returns on mining investment are usually long term, Gold Fields executive VP West Africa Alfred Baku explains that mining jurisdictions that offer a long-term stable fiscal environment are highly attractive to investors. Ghana is currently experiencing fiscal pressures owing to declining tax revenues; however, its stable political environment and its abundance of natural resources have always been an attractive proposition. While some investors are redirecting their mining interests to other West African countries, such as Côte d'Ivoire, Mali and Burkina Faso, many of the investors in the country have instead mitigated the risk of a volatile fiscal environment by entering into stability agreements with the Ghanaian government.
These agreements put a predictable fiscal regime in place for a specified duration and are often used as an incentive to attract foreign investment by protecting investors from changes in tax rates and other fiscal variables. Without the agreement, long-term planning and forecasting become difficult, notes Baku.
"In the medium to long term, it is expected that Ghana will review its fiscal regime to make it comparable with other mining jurisdictions in the subregion and competitive enough to continue attracting foreign investment."
This is paramount for the country, where, Baku adds, there is a high expectation from civil society for more returns from the mining sector. "While nongovernmental organisations continue to scrutinise and speak out about the negative impacts of mining activities, civil society organisations are demanding more benefits from the mining sector, as well as accountability and transparency from government with regard to the use of mining revenue," Baku says.
During 2015, Gold Fields paid about $11-million in dividends to the government of Ghana, due to it by virtue of its 10% ownership in Gold Fields Ghana through a free carried interest. Between the company's Damang and Tarkwa mines, in south-western Ghana, it has to date paid more than $87-million in dividends, $54-million in corporate taxes and $439-million in royalties to the country's government over the past decade.
Ghana's new Tax Act, which came into effect in January, has put further constraints on the mining sector by making it impossible to defer unused capital allowance. "The delay in the release of the value-added tax refunds is also having an impact on the company's cash flow, especially since the real value of the money is being lost over time through the depreciation of the local currency," claims Baku.
Gold Fields Ghana aims to manage the challenges its operations face by focusing on efficiency, strict cost discipline and plant optimisation to maintain profitability, even in an unfavourable business environment.
Gold Fields' two mines in Ghana, Tarkwa and Damang, combined produced a strong operational performance in 2015. Managed gold production of 753 900 oz was 2% higher than the 736 000 oz produced in 2014, while strong cost management ensured a 7% decrease in net operating costs from $551-million in 2014 to $513-million.
The company has also successfully mollified the negative effects of power supply uncertainties in Ghana by securing a power purchase agreement with independent power producer Genser Energy for the production and supply of power to meet the needs of Damang and Tarkwa.
The power production project by Genser will be carried out in two phases, with the first phase expected to be completed by the end of the second quarter, resulting in 20 MW of power being supplied to each mine. By January 2018, it is expected that Genser will provide 100% of the power supply at both mines.
Mitigating Illegal Mining
Gold Fields plans to manage illegal mining on its concession through active, respectful and transparent engagement with all relevant stakeholders, including the illegal miners, traditional leaders, local authorities and the national security apparatus.
Although illegal mining is taking place on the company's concession, such activities are not taking place at the company's working mining area and do not interfere with its mining activities. Gold Fields believes that it can avoid violent confrontations with illegal miners through ongoing engagement.
"The company's community affairs and protection services departments, which usually interface with illegal miners, are trained to respect the human rights of all encroachers and interactions have, so far, been peaceful. Ghana's national security services have also played a significant role in maintaining order, when needed," Baku highlights.
Gold Fields has further bolstered its relationship with local communities through its community apprenticeship programme. Beneficiaries are selected with active involvement from community leadership for apprenticeship training to become auto mechanics, auto electricians, welders and sprayers. In January, Gold Fields presented work tools worth over C$15 000 to a group of beneficiaries to help them establish their own businesses.
The company also undertakes programmes and projects in education, health, water and sanitation, agriculture, agribusiness and infrastructure. More than $28-million has been spent on community development, about one-third of which has been on education.