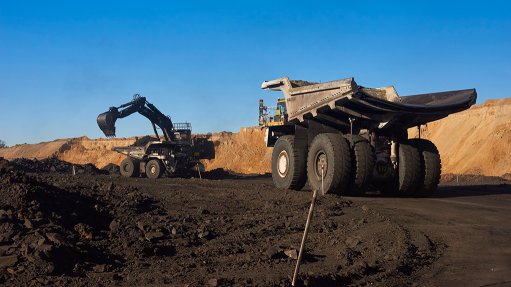 AT BECK AND COAL Coal-fired power will continue to fundamentally underpin of the growth of the local economy for the foreseeable future
In South Africa, as well as globally, there has been a trend towards renewable energy sources and away from thermal coal.
Empowered coal miner Seriti Resources CEO Mike Teke states that, as the company aims to become State-owned power utility Eskom's largest coal supplier and also has hopes to enter the export market, "it is fair to ask us to explain whether we are going against local and international trends".
He explains that Seriti is cognisant of the role that fossil fuels play in respect of climate change, the need to introduce alternative energy into the global energy mix, and the need to minimise and optimise the environmental footprint of its operations. Moreover, it also recognises and supports the shift towards renewables as proposed in the most recent iteration of the Integrated Resource Plan, published in 2019.
However, Seriti also recognises that coal is a significant South African natural asset, and that coal-fired power will continue to fundamentally underpin the growth of the local economy for the foreseeable future.
"Simply put, thermal coal remains fundamentally important to the socioeconomic development of Southern Africa. To have an increased opportunity to supply fuel into that region, we think, represents a very compelling business case for Seriti as a domestic coal supplier to Eskom.
"At the same time, in addition to the shift to renewables over time, Seriti recognises there are other technologies, initiatives and trends at work that can further mitigate carbon emissions in the short term," Teke states.
He stresses that for Eskom, and South Africa as a whole, the huge capital investments in the Kusile and Medupi coal-fired power stations – amounting to about R456-billion in total – mean that it would be economically crippling to walk away from these installations.
In addition, they are far cleaner burning than the older power stations.
He points to cleaner coal power generation being one of the emission reduction trends at work, along with the impending closure of older, dirtier power plants, over the next ten years.
"Still, while our planet's health demands a significant reduction in carbon emissions, we shouldn't underestimate the socioeconomic costs of colliery and power plant closures."
The coal sector is a significant contributor to the economy. It is the largest component of mining by sales value and is a critically important source of primary energy, electricity and liquid fuels, all of which drive the economy. It also has a significant contribution to the petrochemicals complex, notes Teke.
Last year, the coal mining sector generated total sales of R139-billion from its production of 258.9-million tons of coal. It paid about R4-billion in tax, R2.1-billion in royalties, and it invested about R16-billion in fixed capital.
In 2018, the sector employed more than 92 000 people, which Teke says represents about 20% of total employment in the mining sector and 3% more than 2017, making it the top new employment generator in the mining industry.
Another 180 000 people were employed indirectly as a result of coal-mining activities. "It is the only sector in the mining industry where employment has consistently risen in the past five years."
Teke adds that these employees earned R27.9-billion, with much of it spent in local economies.
"It will be important that the production of renewable fuel technologies, and the construction and operation of these plants, will hopefully go some way towards compensating for these lost jobs and earnings.
"However, the idea of a 'just transition' demands that South Africa – and other countries – go further in examining methods to further mitigate these negative impacts of the shift away from coal over time," Teke maintains.
He notes that, for companies like Seriti, there is also a question around financial institutions' appetite for investment in coal projects, as they continue to face pressures from environmental groups and activist shareholders.
Teke explains that the company's understanding is that the trend away from financing coal will likely be phased out, given the importance of the fuel to the local economy.
"From an export perspective, we recognise that coal purchases in Europe and North America have dwindled in recent years. That being said, demand from Asia – led by China and India – provides an attractive position in the medium term for export offtake. We believe that this represents a compelling value opportunity for a low-cost South African exporter," he concludes.