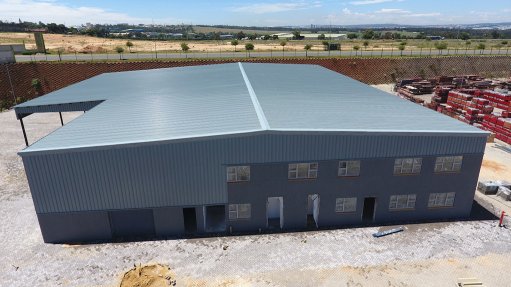 FAR AND WIDE Futurecon plans to keep expanding the use of LSF in the large-scale commercial sector
There is a significant increase in the use of light steel frame (LSF) in construction – despite it still being a relatively new building material in the South African market.
This increase is mostly owed to the multitude of benefits it offers over traditional building methods, says LSF construction company Futurecon director Mitchell Walker.
He explains that, LSF construction is a more environment-friendly option, as steel is the world's most recycled and recyclable product.
LSF construction projects use significantly less water and the finished product is more thermally efficient, which, in turn, ensures less energy waste over time and savings on heating and cooling costs, Walker adds.
A standard double-brick wall has an R-value thermal efficiency rating of 0.29, whereas Futurecon's standard external wall has a thermal efficiency rating of 3.5.
The thermal resistance, or R-value, refers to the insulating material's resistance to conductive heat flow. The higher the R-value, the greater the insulating effectiveness.
Walker adds that the costs of LSF construction are generally similar to those of traditional construction methods.
Meanwhile, he highlights that Futurecon plans to keep expanding the use of LSF in the large-scale commercial sector.
"What we are seeing is that there are more and more inquiries coming in for LSF commercial projects to be done."
Currently, Futurecon is busy with an international fast-food chain to roll out a new concept nationally with LSF, adds Walker. The company is also busy with numerous architects designing student accommodation, multistorey apartment blocks, and other commercial properties.
"A couple of years ago, Futurecon did a large warehouse and distribution centre for a client in Johannesburg and we are aware of one done in Cape Town as well by a competitor."
He notes that the company is seeing a massive scope for growth in the warehousing sector as Futurecon can erect warehouses in half the time compared with conventional methods. This, in return, gives developers a far quicker return on investment.
Additionally, Futurecon has also developed a "Warehouse in a Box" concept where it can flat-pack an entire warehouse (walls and roof) in single or multiple shipping containers or on an interlink truck.
Walker explains that a small team is then sent to the site to erect the warehouse, without the use of heavy-lifting equipment. This also means working in remote locations is easy and cost-effective.
"The cost-effectiveness and time savings of this method are hugely beneficial to property developers in general who want to open their doors in the shortest time," says Walker.
LSF components can be manufactured to specification, packed, and shipped globally, making it the ideal solution for large-scale projects where speed is required, he adds.
"By premanufacturing the components, our projects are typically completed in half of the time it takes to build with brick or heavy steel."
Further, Futurecon completed the external cladding of the Castle Rock development, in Cape Town, last month.
The company provided a 110 m2 LSF and Kalsi Clad fibre cement board for the external façade of the eight-storey apartment block that was being built to create a feature wall.
Walker notes that an LSF extenal cladding solution was the ideal solution because of its light weight, cost effectiveness and speed of installation.
"From new buildings to the revamping of existing buildings, cladding and facades are growing in demand, owing to the benefits of LSF construction."