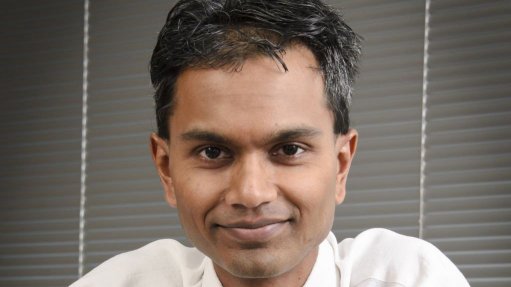 SANTOSH GUNPATH Global, rather than local macroeconomics will be the driver for the outsourced mining services sector
While outsourced mining services specific to the resources sector are adequate for now, the depressed commodity cycle in South Africa has masked the need for outsourcing to robustly position itself for the future, says Independent process industry consultant, business analyst and chemical engineer Santosh Gunpath.
He tells Mining Weekly that, although there are several entrenched companies offering mining services in South Africa, especially in the coal sector, they are not taking adequate measures to reposition their businesses to address the future needs of the mining industry, which is a lost opportunity.
Companies are "holding on" and "getting by", rather than making strides to reposition themselves for future demands, he declares.
Gunpath adds that, locally, the outsourced mining services sector is at risk. Drawing on his experience in the field, he has found that new "entrepreneur start-ups" entering the sector are doing so without any knowledge or experience in mining and/or mineral processing. This is worrying, because it poses a risk to clients, as their expensive assets can be mismanaged, and it poses a health and safety risk when an inexperienced service provider is operating complex and dangerous equipment, conducting important processes and handling chemicals, among other tasks, he warns
.
This is largely the result of an unregulated industry with regard to minimum entry standards; unscrupulous service providers – for example, original-equipment manufacturers (OEMs) that support such entrepreneurs to make a sale; and black economic-empowerment incentives that open the door to inexperienced and nontechnical personnel working with asset owners, Gunpath explains.
He is concerned about the lack of adequate measures in place to mitigate these risks, emphasising the need for government, the Department of Mineral Resources and asset owners to formulate policies that more strictly regulate the outsourced mining services sector.
Gunpath says, politically, growth in the mining services sector is not being driven, but is rather, owing to unemployment in the mining industry, forcing individuals to enter the sector as service providers. "It is a case of survival, further complicated by a complete lack of demand for such services, owing to the state of the mining industry."
To redress this, he says government should incentivise foreign direct investment in the mining industry to assist local asset owners in securing funding to develop their assets, pointing to reducing company tax to boost the sector as a possible incentive.
Moreover, there is a need for technological, production and service innovation in the outsourced mining services sector, which is not being addressed. Gunpath posits that this is owing to the perceived risk involved, which has hindered buy-in from the industry.
There are, however, times when established outsourced mining service providers work well with smaller resource owners to successfully develop their assets. This also allows for expertise to be shared with those who otherwise would not have the financial capability to acquire this knowledge or capital for expensive equipment, for example, earthmoving equipment.
He highlights contract operations and plant maintenance company Minopex, and mining and industrial services partner Fraser Alexander, as examples of successful service providers, having personally witnessed the successful results of such partnerships in the chrome, platinum and coal sectors in the North West and Mpumalanga.
Gunpath postulates that the manganese, chrome and platinum-group metals (PGMs) industries present the biggest opportunities for local outsourced mining services, stressing that South Africa, along with Russia, contains the largest deposits of these commodities, which should be capitalised on to add to the local gross national product.
While he agrees that legacy commodities, such as coal and gold, still maintain a position in the country's mining industry, he believes that the growth of the manganese, chrome and PGMs industries will have the biggest economic impact on the country.
Therefore, Gunpath suggests that market players offer outsourced services for these sectors, operationally and designwise, in the form of commodity-tailored services, rather than the prevalent one-size-fits-all approach.
"I've faced a difficult two years in the resources sector, but I remain bullish from a supply/demand perspective. Global, rather than local macroeconomics, will be the driver for the outsourced mining services sector."