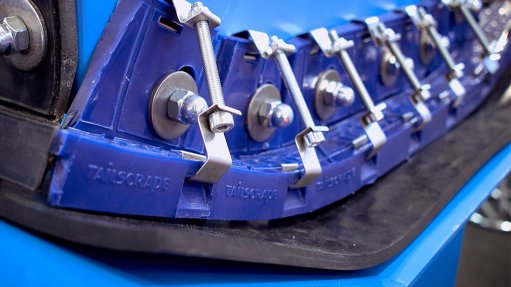 NO MORE DUST ScrapeTec-Trading has developed advanced solutions for conveyor systems which prevents dust formation, reduces material spill and enables thorough belt-cleaning
German conveyor solutions provider ScrapeTec-Trading has developed advanced solutions for conveyor systems – its AirScrape, TailScrape and SpeedScrape products – which comprise technology that prevents dust formation, reduces material spill, enables thorough belt-cleaning and minimises the risk of explosion at critical sections and at transfer points.
BLT World is the distributor for ScrapeTec in Africa, the Indian Ocean Islands and the US, with BLT World MD Ken Mouritzen explaining that, "dust is a major problem associated with conveyor systems, particularly those in confined underground mining conditions, where miners have prolonged exposure to the hazards of dust particles".
He adds that, aside from adverse effects on health – such as irritation to the eyes, skin and respiratory tracts, as well as serious lung diseases – some types of dust can also create an explosive environment, which is extremely dangerous to miners.
Mouritzen states that BLT World specialists work closely with mine engineers and with the ScrapeTec team to alleviate problems associated with dust generation, material spills and contamination at the transfer points of underground conveyor systems. The team also offers solutions to address misalignment, abrasion and subsequent belt damage.
ScrapeTec's contact-free AirScrape conveyor belt skirting system hovers freely above the conveyor belt, preventing skirt friction and belt damage, thereby extending service life of the conveyor system. The AirScrape system comprises inward facing, hardened- steel diagonal blades and hovers 1 mm to 2 mm above the conveyor belt.
The blades deflect larger particles inwards, while using the air flow of the conveyor belt and conveyed material to create an inward suction, forcing any dust and fine particles back into the product flow. Through the diagonally fitted plates and the speed of the running belt, air is drawn inwards. As a result, neither the dust nor material can escape.
Conventional skirtings are pressed against a conveyor belt to keep dust and material trapped in the middle of the belt, but after a period, wear of both the skirting and belt can be so severe that material and dust escapes. Material spillage at transfer points needs to be removed and regular maintenance and housekeeping of belt skirting and transfer points are necessary.
With the AirScrape dust-free and contact- free side sealing system for belt conveyors, there is no skirt contact and therefore no belt wear. Power requirements are reduced as there is no belt-skirt friction and, because there is continuous skirting with no gaps, product loss is minimal.
Case studies have shown that, up to seven years after installation and with continuous use in harsh underground mining conditions, the AirScrape system shows little sign of wear. Operational costs are also reduced because there is no need for spillage collection, regular maintenance or replacement parts.
Mouritzen cites a recent underground project in Peru, where the mine management's initial 10-m-test installation of AirScrape was followed by the installation of another 400 m on six conveyor belts, two weeks later. Currently 30% of the conveyors in this mining operation are fitted with AirScrape, with management intending to extend the solution to every conveyor at the operation.
According to the mine manager, he initially instructed the service team to inspect the AirScrape installations regularly but halted all inspections after a few weeks as there was no dust or spillage.
Meanwhile, the Scrapetec PrimeTracker belt tracker, which enhances performance of the AirScrape system by eliminating problems associated with conveyor belt systems, including misalignment, abrasion and belt damage, has recently been introduced.
The BLT World team provides an assessment and solutions service for planning and implementing each project. "Correct installation of suitable equipment for underground mining applications ensures cost efficiency, optimum performance and safety, as well as reduced risk of breakdown and extended service life of the conveyor system," Mouritzen concludes.