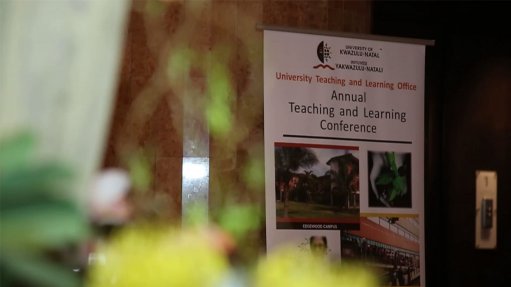 GATHERING FOR ACADEMIC DEBATE The Annual Teaching & Learning in Higher Education Conference will be taking place for the tenth time this year
Advancing teaching innovation and research excellence in higher education will be the focus of this year's Annual Teaching & Learning in Higher Education Conference.
The conference, in its tenth year, is an international gathering of academics and researchers that will be held at the Southern Sun Elangeni & Maharani Hotel, in Durban, from September 20 to 22.
It is organised by the University of KwaZulu-Natal (UKZN) Teaching & Learning Office (UTLO) and is expected to attract about 300 visitors, says UKZN teaching and learning director and conference chairperson and convenor Dr Rubby Dhunpath.
The conference aims to showcase innovations, generate debate, theorise policy and practice, and explore opportunities and challenges associated with teaching and learning in higher education, while also serving as a platform for disseminating higher education and institutional research findings.
Dhunpath says this year's conference theme will be The Scholarship of Teaching & Learning: Advancing Teaching Innovation and Research Excellence in Higher Education, which aims to interrogate the artificial dichotomy between teaching and research, with presentation formats comprising keynote addresses, paper and poster presentations, workshops, special interest groups and panel discussions.
The conference will also introduce new formats that will allow for greater engagement between the audience, speakers and panellists, he notes.
It will also feature world-renowned and seminal authors in their respective fields, with some of them visiting South Africa for the first time.
Stanford University professor Lee Shulman will offer a global perspective on the scholarship of teaching and learning, whilst University of Johannesburg teaching and learning chair Professor Brenda Leibowitz will offer a South African perspective in this regard.
UKZN professor Thabo Msibi will explore complexity and diversity in higher education.
University of California, Berkeley, professor Sam Mchambo and University of Ibadan professor Ayo Bamgbose have also been confirmed as keynote panellists. UKZN director for language planning and development Dr Langa Khumalo will chair the keynote panel that will debate contemporary challenges for languages in higher education.
"Delegates will experience a blend of cutting-edge academic debates and rich networking opportunities with international colleagues at the social events," concludes Dhunpath.