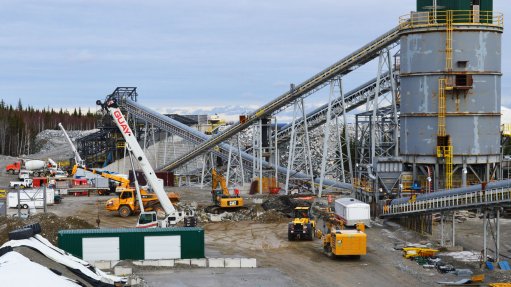 Emerging lithium producer Sayona Mining has cemented plans to get its North American spodumene production off the ground in 2023, following a formal agreement of the North American Lithium (NAL) restart programme.
Sayona Quebec, which is 75% owned by Sayona and 25% by Piedmont, has formally authorised the restart of spodumene concentrate production at the NAL operation, in Quebec, requiring significant plant and infrastructure upgrades.
The proposed upgrade and restart budget is C$98-million, or about A$110-million, which the partners will fund through cash contributions, with each having successfully completed capital raises in the first half of the year.
"We are delighted to put the seal on our plan to launch North America's first local spodumene concentrate production, amid growing demand from both Canada and the United States for local and sustainable sources of this key battery metal," Sayona MD Brett Lynch said on Tuesday.
He stated that the Quebec team had hit the ground running since taking over NAL in August last year.
"Progress to date has been excellent, including the recruitment of experienced operating personnel and the move to secure major items of equipment earlier, before recent cost hikes."
The announcement pushed up Sayona's share price on the Australian exchange by 25% to A$0.18 apiece.
Following the restart of NAL operations, the offtake agreement with Piedmont entitles it to purchase the greater of 113 000 t/y of spodumene concentrate, or 50% of production from NAL.
Prior to the NAL restart, the agreement provided for offtake of 60 000 t or 50% of the concentrate produced from ore mined at Sayona Quebec's nearby Authier lithium project.
This offtake agreement will remain in place until the commencement of operation of a lithium conversion plant in Québec. At this point, spodumene concentrate produced from NAL will be preferentially delivered to that chemical plant upon the start of production. Any remaining concentrate not required by the conversion plant will be delivered to Piedmont.
The company has an agreement with the Quebec government to develop a downstream processing capability, comprising lithium carbonate and/or lithium hydroxide production.