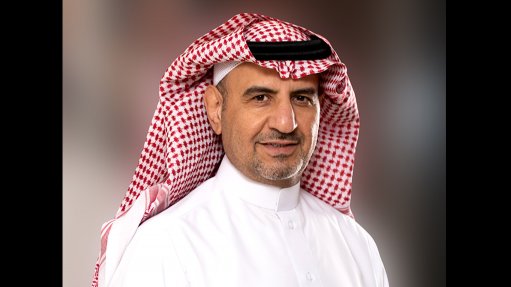 Saudi Arabia Vice Minister of Industry and Mineral Resources Khalid Al-Mudaifer
Saudi Arabia recognises the importance of building lasting international partnerships to support its minerals ecosystem – a move that will ultimately result in the mapping of the kingdom's mineral-rich territories for the benefit of all local and international investors.
Saudi Arabia Vice Minister of Industry and Mineral Resources Khalid Al-Mudaifer tells Mining Weekly that the country's Ministry of Industry and Mineral Resources has a mandate to regulate the Saudi mining sector.
"Although we don't influence the expansion plans of our local investors, we recognise the importance of building lasting international partnerships to support our ecosystem – this can be seen in the work done by the Saudi Geological Survey (SGS), which is working with the brightest minds from around the world, including geological survey companies from South Africa, to map the kingdom's mineral-rich territories for the benefit of all investors," he explains, noting that, ultimately, local and international successes go hand-in-hand.
However, Al-Mudaifer noted that the success of any mining nation starts with geology, adding that the Regional Geological Program (RGP), managed by the SGS, will serve as the bedrock for the kingdom's mining strategy.
"The RGP is the largest geological survey in the world, operating on a budget of two-billion Saudi Riyals. The program is taking a three-pronged approach – airborne geophysical surveys, geochemical surveys and detailed geological mapping."
He added that critical data is being gathered that will be made publicly available, providing local and global investors even greater knowledge of potential opportunities for mining operations in the region.
South African company XCalibur Airborne Geophysics Company is one of the four world-class partners executing the three-year program as a first phase of a six-year airborne geophysical survey.
Although there are currently no companies from South Africa holding exploration or mining licences in Saudi Arabia, Al-Mudaifer notes that international mines operating in South Africa are turning to the kingdom to expand their operations and to capitalise on growth and synergies between the two markets.
In addition, the kingdom has also been approached by investors from South Africa who are eager to learn more about the mining ecosystem in Saudi Arabia.
Referencing the country's transformed mining ecosystem, which features a new legal and regulatory framework designed to ensure efficient and transparent licensing, simplified business activities and support a dynamic and sustainable mining industry, Al-Mudaifer explains that having a strong and welcoming mining ecosystem is critical to investors.
"Our mission has been to strengthen Saudi Arabia's position as a world-class mining destination, placing a great deal of emphasis on creating an attractive investment environment," he notes.
For example, Saudi Arabia's financing and taxation climate, and the incentives the country offers investors, are "best-in-class", according to Al-Mudaifer.
"We provide a royalty licence to miners for the first five years of their mining licence, combined with royalty discounts of up to 30% for each stage of local downstream production."
He adds that the investor journey for setting up a legal entity typically includes a few steps, from reserving a trade name, through to applying for a commercial licence, to opening a bank account.
"We have worked hard to ensure that our international partners have a world-class experience. We know that ease of business is a critical factor for those wanting to invest in the kingdom's mining sector," he states.
Further, earlier this year, when talking to prospective mining sector investors from South Africa, Al-Mudaifer discussed the $1.3-trillion potential of the Arabian Shield, which is home to a number of minerals critical to the technologies that will drive a sustainable future, including gold, copper, phosphate, iron-ore and rare earth elements.
Many of these minerals are critical to the high-demand technologies that will drive a sustainable future and Al-Mudaifer says it "makes absolute sense" to advance development in this space.
In terms of the economic proposition, the kingdom has already attracted significant amounts of domestic and international investment to the sector, with successful operations up and running in gold, aluminum and phosphate.
Considering that mining is an integral part of Saudi Vision 2030, having been singled out to grow and become the third pillar of the country's industrial growth, Al-Mudaifer says the industry already boasts a significant contribution of $17-billion to Saudi Arabia's gross domestic product, including nearly $7-billion in total exports, supporting more than 250 000 jobs.
"We are continuing conversations with investors in South Africa who have expressed an interest in learning more about the sector in the kingdom, in particular, about Saudi Arabia's mining ecosystem and our infrastructure," Al-Mudaifer tells Mining Weekly.
With the support of the highest level of government, the country has already developed a strong backbone infrastructure, including roads, railways, ports and electricity networks.
Taking this into account, Al-Mudaifer enthuses that South African investors will benefit from the numerous world-class initiatives under way that will make mining in the kingdom an "effortless and lucrative experience".
This includes the country's Mining Investment Law, its fiscal regime and the work done by the SGS to map the entire Arabian Shield – de-risking investments through transparent and accurate information.