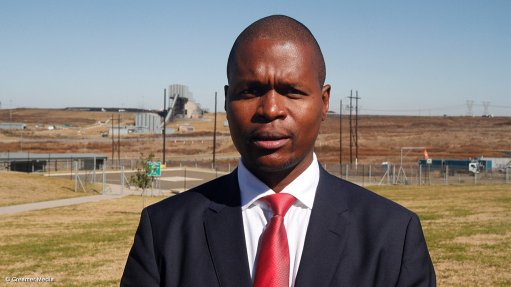 Sasol senior VP Lucky Kgatle
Photo by: Duane Daws
SECUNDA (miningweekly.com) – Sasol Mining, the coal mining arm of energy and chemicals group Sasol, on Thursday unveiled the progress made over the past few years on its now nearly-completed R15.3-billion programme to replace its ageing coal mines in the Secunda area.
Speaking during a site visit to the new Secunda-based Shondoni mine, the replacement for the mature Middelbult mine, Sasol senior VP Lucky Kgatle said the project had progressed "quite well", with Sasol Mining's ambition of replacing 60% of its operations that are nearing the end of their lives.
The group has been developing new collieries and shafts to ensure the uninterrupted supply of some 40-million tons of coal a year to its Sasol Synfuels operations.
The years-long project saw the replacement and transition of the long-serving Twistdraai, Brandspruit, Middelbult and part of the Syferfontein operations – all of which had been nearing the end of their economical life – with the new Thubelisha, Impumelelo, Shondoni and Tweedraai collieries respectively.
The Shondoni mine, on which construction work kicked off in 2012, is now transitioning from the "old mine into the new mine" after reaching another milestone in April this year, when the decline shaft sinking was completed, Kgatle told media during the visit.
Construction of the Shondoni mine is now 94% completed, with the Phase 2 underground infrastructure expected to be fully completed on schedule by September.
This followed the completion of Phase 1 in August 2016.
The extractable reserves at Shondoni are estimated at about 190-million tons, which translates into an operating life of 20 years.
The mine is expected to produce 9.2-million tons of coal a year. A 21-km-long conveyor belt will transport the coal from the mine to Sasol Coal Supply.
The Brandspruit mine is also being transitioned into the Impumelelo colliery, an 8.5-million- to 10.5-million-ton-a-year operation that is currently 40% complete.
Phase 1 of the Brandspruit project was completed in June 2016, while Phase 2 is "progressing well" and is on track for completion in June 2019.
Meanwhile, the 10.5-million-ton-a-year Thubelisha mine has extended the life of the Twistdraai colliery beyond 2040, while the 2.5-million-ton-a-year Tweedraai project replaced part of the Syferfontein mine as an opencast operation.
The group's rehabilitation projects were also on schedule, with the Twistdraai Central and Twistdraai West rehabilitation concluded in November 2015.
The rehabilitation projects for Middelbult North and Brandspruit were completed in November 2016 and January 2017 respectively.