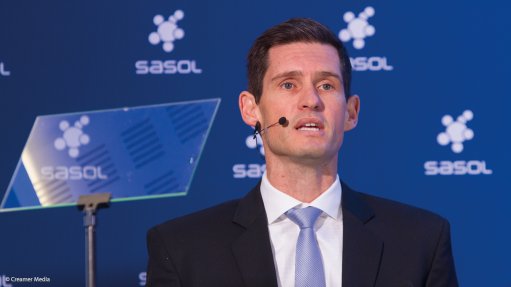 Sasol CFO Paul Victor
Photo by: Creamer Media
Chemicals and energy group Sasol has developed a list of ten major assets that will be prioritised for sale in the coming weeks and months as it moves to streamline the business into what is being termed 'Sasol 2.0', while also raising proceeds to help it reduce a $9.5-billion debt burden.
In total, the group has identified more than 20 assets for disposal from a portfolio of about 100 cash-generating units.
CFO Paul Victor tells Engineering News, however, that the current focus is on the "top ten" list, which Sasol has identified as having a "high probability of being sold at value and that can assist us in paying down the debt".
Financial advisers have already been appointed for all ten possible transactions, with the advisers appointed from the 23 South African and international banks with which the group already has relations.
The top-ten disposal list includes noncore assets, such as Sasol's upstream oil assets in Gabon, as well as core but non-strategic assets, such as the Republic of Mozambique Pipeline Investment Company (Rompco) pipeline, to which Sasol still requires access, but without necessarily retaining equity.
Sasol currently has a 50% holding in the 865-km pipeline, which transports gas from the Pande and Temane gasfields, in southern Mozambique, to South Africa. The other shareholders include the State-owned Companhia Mocambiçana de Gasoduto (25%) and the South African Gas Development Company (25%), also known as iGas and a subsidiary of South Africa's State-owned Central Energy Fund.
The JSE-listed company has set a goal of reducing its debt to about $4-billion by the end of its 2021 financial year and envisages achieving the objective through a combination of asset disposals of between $2-billion and $4-billion, or higher, and a possible rights issue, the size of which has been capped at $2-billion.
In light of the depressed environment, Victor reports that Sasol is continually assessing whether or not it is likely to receive fair value from the disposals, or whether to hold back on the sale. For instance, while the group's export coal business has been identified as noncore, Victor reports that a decision has been made not to proceed with the disposal until the coal market recovers.
"By contrast, Rompco works on a tariff and relies on commercial throughput to earn money rather than the actual price of the gas. Hence, that sale will yield a market-related return that is unaffected by what is happening in the gas market."
Victor is optimistic that the majority of the top-ten assets will be sold at a fair value and will, thus, make a "big dent in our debt balance".
"If we come to the point where we have sold as much as we can, for the best prices we can receive, but we still need to reduce debt, then we will need to sit with shareholders and consider a rights issue, or whether we should rather sell more assets, but at a lower value."
There is a "tipping point where the rights issue will make more sense than selling good assets below value", and Sasol expects to complete this assessment in the coming two months, possibly providing a report back to the market when releasing its results on August 17.
SASOL 2.0?
Victor says the group may also be in a position, by August 17, to further outline the 'Sasol 2.0' vision, which would be aligned to assets, such as the Secunda complex, in Mpumalanga, considered both core and strategic.
Already in 2017, the group indicated that it would no longer pursue new coal- or gas-to-liquids investments globally and that it would, instead, be targeting growth in global speciality and bulk chemicals, as well as in Southern African energy markets, with an increasing focus on gas and downstream liquid fuels.
That repositioning was underpinned by the mega Lake Charles Chemicals Project (LCCP), in the US, which was initially anticipated to be built at a capital cost of $8.9-billion.
Following material project implementation problems, the cost of the LCCP has since burgeoned to nearly $13-billion and the debt raised to complete the project lies at the heart of the group's current financial predicament.
Sasol has since decided to further refine its chemicals strategy to focus primarily on speciality chemicals and has, thus, reported that it is seeking to partner with others on its LCCP base chemicals assets. It has also revealed that these partnering discussions are "well advanced".
Victors says the implementation of Sasol 2.0 is likely to result in a company that is smaller in terms of asset size, but one that is also more focused on two core businesses. These will be its global chemicals business, with a bias toward speciality chemicals, and a Southern African energy business that is far more gas focused and that may, in time, include green hydrogen.
Its existing South African coal assets remain "core and strategic", however, as the Secunda complex, which converts coal and gas to fuels and chemicals, is likely to remain reliant on the mineral for decades to come.