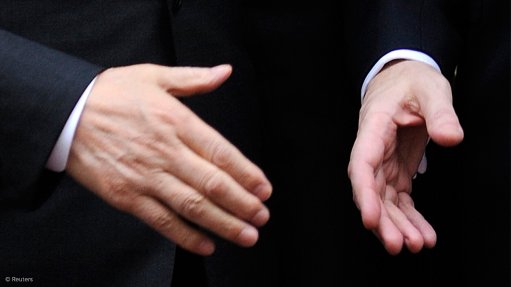 Photo by: Reuters
PERTH (miningweekly.com) – Oil and gas producers Santos and Oil Search announced a merger to create a A$21-billion oil and gas giant.
Santos in July this year failed in an initial merger effort with Oil Search, after the takeover target rejected an earlier non-binding indicative all-scrip merger proposal under which Oil Search shareholders would have received 0.589 new Santos shares for each Oil Search share held.
The two companies on Monday announced that they had now reached an agreement on the merger ratio with Oil Search shareholders to receive 0.6275 new Santos shares for each Oil Search share held via a scheme of arrangement.
Following approval of the scheme, Oil Search shareholders would own about 38.5% of the merged group and Santos shareholders would own about 61.5%.
Oil Search has confirmed that, subject to the completion of confirmatory due diligence and the agreement of a binding merger implementation agreement, its intention was to unanimously recommend the revised merger proposal, in the absence of a superior proposal and subject to an independent expert concluding that the scheme of arrangement was in the best interests of Oil Search shareholders.
The revised merger proposal implied a transaction price of A$4.29 per Oil Search share, based on the closing price of Santos and Oil Search shares on July 19. This represents a 16.8% premium to the Oil Search closing price on July 19 and a 16.4% premium to the one-month volume-weighted average price on that day.
In addition, the proposal represents the opportunity to deliver compelling value accretion to both sets of shareholders.
Oil Search on Monday told shareholders that the revised proposal presented its shareholders with an opportunity to maintain ongoing exposure to the company's portfolio of world-class assets as part of a merged group for which there was strategic logic. The merged group would be within the S&P ASX-20 index and amongst the top 20 largest global oil and gas companies.
The merged entity would have a diversified portfolio of high-quality, long-life, low-cost assets across Australia, Timor-Leste, Papua New Guinea (PNG) and North America with significant growth optionality
The merged company would have a pro-forma market capitalisation of A$21-billion which would position the merged entity in the top-20 ASX-listed companies and the 20 largest global oil and gas companies, with a combined 2021 production of approximately 116-million barrels of oil equivalent.
The enlarged company would have a combined 2P+2C resource base of 4.9-billion barrels of oil equivalent, investment grade balance sheet with more than $5.5-billion of liquidity to self-fund development projects, whilst maintaining further optionality and flexibility to optimise the portfolio, a target gearing of less than 30%, strong environmental and social governance credentials including maintaining Oil Search's social and community investment in PNG and North America, including the Oil Search Foundation.
The merged entity would also have substantial potential combination synergies. Santos has an excellent track record of integration and recently merged Quadrant Energy and ConocoPhillips' Western Australian and Northern Territory business unit into Santos, delivering more than $160-million in annual synergies
The combination would also create greater alignment in PNG supporting the development of key projects including Papua liquefied natural gas (LNG), deliver new jobs and help support the local economy.
Santos MD and CEO Kevin Gallagher said the potential merger of Santos and Oil Search was consistent with Santos' disciplined strategy to grow around its core assets.
"It represents a compelling combination of two industry leaders to create an unrivalled regional champion of size and scale with a unique diversified portfolio of long-life, low-cost oil and gas assets.
"The merged company would have strong cash generation from a diverse range of assets which provides a strong platform for sustainable growth and continued shareholder returns.
"The merger also builds on our industry-leading approach to ESG through the combination of Santos' net-zero 2040 pathway, including its sector-leading carbon capture and storage projects, and Oil Search's unique social programmes in PNG, underpinned by a strong balance sheet to fund the transition to a lower carbon future.
"The revised merger proposal represents an extremely attractive opportunity to deliver compelling value accretion to both Santos and Oil Search shareholders."
The merger was subject to due diligence by both companies, as well as to appropriate confidentiality arrangements over a period of about four weeks with the aim of entering into a merger implementation agreement, which would contain conditions to completion of the merger such as regulatory approvals.