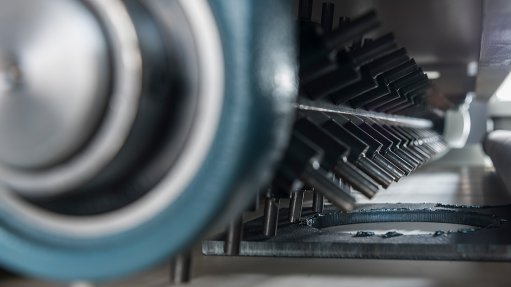 TICKING THE BOX Some companies are putting only the bare minimum in place to ensure safety within their manufacturing processes
Safety is improving in the local metal fabrication sector as more companies realise the importance of having stricter safety protocols in place, says local blades and electrodes manufacturer, and cutting consumables and capital equipment supplier First Cut machine division GM Anthony Lezar.
"Some companies are so stringent that their suppliers are hard-pressed to keep up, consequently ensuring a high standard of safety compliance is required to successfully tender for work. This is a good sign, as safety is paramount in our industry and we cannot afford injuries or machines malfunctioning and impacting on productivity."
However, some companies are putting only the bare minimum in place to ensure safety within their manufacturing processes, as they either do not have the human capital or the finances to ensure that safety is given stringent attention.
"The cynic sees this as 'hurdles to doing business'; however, they do not need to be. This is a classic case of short-term pain for long-term gain. "If done correctly, with the right level of commitment, it is a positive exercise. Where it goes potentially wrong is when it just becomes a box-ticking exercise."
With a struggling economy and Covid-19, money is tighter than ever, so this trend may well – unfortunately – gain traction, says Lezar.
Larger companies are more inclined to procure equipment and products that are International Organisation for Standardisation- (ISO-) compliant or are CE-certified.
"They also insist that the relevant certification documentation is supplied accordingly. This, in turn, supports the implementation of their safety protocols. It ensures a higher standard of overall operational safety and, consequently, their credibility and reputation in the market."
While smaller companies have recently made a concerted effort to be more compliant, as safety has become an important requirement in obtaining new business, they are challenged by the substantial costs involved.
Having the required safety certification is seen as something to aspire to, but it requires investing a substantial amount of time and money.
"For example, weeks could be spent on producing comprehensive safety documentation. "This is particularly the case when dealing with clients which have exceptionally high safety standards, as they are dealing with customers who demand stringent safety protocols."
Having achieved ISO 9001:2008 certification in 2010, First Cut also contributes to safety in the metal fabrication sector by reviewing its own in-house safety requirements and ensuring that its staff training is of the highest quality, frequent and up to date.
Companies that do not abide by and adhere to mandatory industry safety standards are at risk of losing their accreditation and safety certifications, tainting their reputations, and, consequently, relinquishing their credibility and future business opportunities, says Lezar.
"There is also the real possibility that people could be injured while using equipment that is not up to standard, while noncompliance with the Occupational Health and Safety Act may lead to fines,penalties and possible prosecution."
Sensitive to Substandard Quality
Lezar says the company ensures that it supplies only CE-certified cutting equipment and consumables to the market by establishing long-standing relationships with premier, trusted international suppliers such as German metalworking products supplier Messer Cutting Systems and Taiwan-based capital equipment supplier Everising.
"These original-equipment manufacturers have produced a range of machines and consumables that has been tried and trusted by some of the top manufacturing, steel fabrication and processing facilities in South Africa and globally."

First Cut took over the existing South African Messer Cutting Systems agency in 2019, as the electrode and blade ranges complement the company's quality and safety ethos and current machine and consumables division product portfolios.
The welding electrode range manufactured under licence by First Cut must comply with quality standards such as that of the German national organisation for standardisation, the American Welding Society, the American Society of Mechanical Engineers, and the British Standards Institution.
First Cut is also focusing on Messer's range of Oxyfuel products, which are gaining popularity in the industry, owing to their variety of solutions for welding, cutting and heating processes.
"Messer is the original inventor of Oxyfuel technology and a pioneer in electric welding, with a 120-year track record and focus on safety, so we thought now was the time to introduce this particular technology and line of equipment to the local market, as it meets all the necessary safety requirements," says Lezar.
"We have tested the Oxyfuel product extensively, and the test results have been very encouraging. Sales in recent times have exceeded our expectations."
Having installed about 1 500 bandsaw machines over the past 19 years, First Cut is risk-averse when it comes to poor- or inferior-quality workmanship or equipment.
"As a result, we supply only the best cutting equipment and consumables to the industry. Our international principal Everising's recent upgrades to the P-series circular saw and E-series bandsaw ranges are prime examples of a long-standing international supplier's - and First Cut's - shared commitment to safety, quality and customercentric solutions," emphasises Lezar.
He adds that Everising's fully automated bandsaws have a significant effect on the productivity of fabrication businesses and many refinements of its products are based on customer feedback.