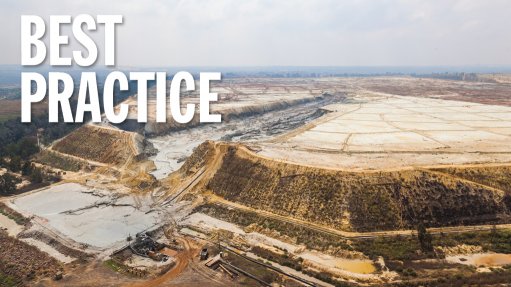 With the local and global mining industries still reeling from tailings dam failures in recent years, the solutions cited for more responsible tailings management are collaboration, consistent monitoring and safety prioritisation over production, besides others.
Tailings retreatment and gold mining company Pan African Resources (PAR) says that, of all the safety risks inherent in mining operations, tailings dam failures are among the most preventable, especially with rigorous controls regarding tailings deposits, consistent monitoring and reporting, as well as commodity-specific standards.
An approach alive to these aspects is especially prudent with the volume of tailings deposits steadily increasing at rates faster than in the past century, which is currently still the case.
University of the Witwatersrand senior lecturer Dr Luis Torres-Cruz explains that, at current mining and tailings deposition rates, the mining industry will, in the space of five years, accumulate 25% of the tailings volumes generated over the past 100 years.
PAR spokesperson Hethen Hira says that while the Global Industry Standard on Tailings Management (GISTM) – drafted by global organisations the International Council on Mining and Metals (ICMM), the United Nations Environment Programme and Principles for Responsible Management in 2020 – has gone a long way towards ensuring that miners "do the basics" with respect to tailings management compliance, the local regulator currently lacks capacity and the skills to monitor and regulate tailings storage facilities (TSFs).
He tells Engineering News & Mining Weekly that the Department of Mineral Resources and Energy has "lost" the experience and expertise on monitoring and regulating TSFs because, in most cases, the skills of retired employees were not transferred.
Hira says mining companies such as PAR are willing to collaborate with government in this regard, to transfer skills or to collaborate on tailings management, including enforcement of safety standards.
ICMM CEO Rohitesh Dhawan told Reuters in September 2022, following a tailings dam disaster at Jagersfontein, in the Free State, that South Africa has fragmented regulation on tailings management, suggesting that the country needs clearer rules. The disaster killed one person and hundreds of farm animals, and also injured several people and destroyed houses.
Torres-Cruz says better construction practices can prevent tailings dam collapses.
Greater awareness of what can be measured using publicly available images could ensure better construction practices, he said during a webinar hosted by Creamer Media on February 24.
He adds that, unlike conventional water retention dams, tailings dams are often constructed progressively over years or decades, making it more difficult to ensure consistent and high-quality construction.
Referring to the Jagersfontein disaster, Torres-Cruz says that, by examining only publicly available satellite photos, the tailings dam could have been examined in terms of shifts in infrastructure and the environment, as well as how far mine waste has spread.
However, he adds that it is often not the physical structure of TSFs that causes failures, but the organisational and regulatory environment in which TSFs are managed.
Torres-Cruz points out that mining officials are often pressured to deliver certain production figures, which may contrast with safety considerations, adding that regulatory compliance is too often considered a "tick-box exercise" by miners, who neglect to ensure truly safe TSF management.
Hira believes that larger mining houses, especially listed companies that have to account to international shareholders, definitely have responsible tailings management embedded in their environment, social and governance (ESG) compliance.
However, he does not believe that smaller mining operations have necessarily adopted all the international best practice standards on tailings and, therefore, require more enforcement from a regulatory perspective.
Meanwhile, in taking the lead on more responsible tailings management in South Africa's mining industry, Minerals Council South Africa has hosted monthly meetings since the beginning of the year.
The meetings are open to all mining industry CEOs to share their insight on safety incidents and interventions as part of the industry's aspiration to achieve zero harm at operations – including TSFs.
The Minerals Council is also in the early stages of conducting a TSF risk assessment across the country.
Systems Approach
Fellow tailings deposition miners DRDGOLD and Fraser Alexander agree that every tailings dam needs a comprehensive and thorough management and monitoring approach, from the planning and design phases to construction and maintenance, as well as closure.
Fraser Alexander mineral processing COO Bongani Buthelezi says the company stays on top of research and development in the latest technologies to achieve minimal failure risk at its TSFs.
Fraser Alexander has built 47 TSFs worldwide in the past 20 years, including one of the largest TSFs in the world at 250 ha.
The company manages its tailings risks to a tee, Buthelezi says, particularly through its technical and operational risk assessment system (TORAS), which is aligned with the GISTM.
This system enables the company to determine and monitor operational risk for all tailings deposition contracts, and manage it collectively with clients and engineers.
The TORAS application provides data and other relevant documentation for stakeholders through one data access portal, increasing levels of transparency, reliability, visibility and automated operations.
In turn, DRDGOLD uses instrumentation for TSFs that provide live data on weather and return water. The company also uses drones with infrared imagery to monitor the movement of tailings dams and 'cold spots', where water is rising to the surface.
PAR also uses the latest available technology, particularly live data monitoring to oversee mining progress and keep records of its TSFs deposition rates and stability parameters.
The company will soon start constructing its fourth TSF, in continuing its established track record of bringing tailings retreatment projects to account.
Increasing Collaboration
DRDGOLD COO Jaco Schoeman says the company produces the greenest gold available in South Africa at its Ergo and Far West Gold Recoveries' tailings reclamation projects, to the east and west of Johannesburg respectively.
The 100-year-old mining company continues to innovate for cleaner and safer operations by focusing on not only environment-friendly practices, such as recycling mine waste and ensuring energy and water efficiency, but also community engagement and upliftment as part of its ESG practices.
Torres-Cruz admits that, although instances of tailings dam failure have increased in recent years, which is worrying, the way in which mining companies have adopted best practice guidelines and collaborated with a broader range of stakeholders has been encouraging.
For example, Schoeman says DRDGOLD has, through meaningful community engagement, learned what the company needs to achieve true empowerment and sustainability, including by establishing self-sufficient businesses.
The company also uses forums to discuss potential expansion projects and environmental impacts such as dust fallout. The forums also serve as platforms to discuss risks to people's health and safety, should they trespass on a tailings deposition or reclamation site.
In turn, PAR holds extensive engagement forums to discuss how repurposing of mined tailings areas can add to the sustainability of local communities through collaborative initiatives. The company also strives to reduce legacy environmental risks in the longer term, through the reprocessing of tailings and the treatment of water resources.
Meanwhile, Fraser Alexander has refrained from working with clients and partners that are not aligned with global best practice tailings management.
Buthelezi notes that mining, including tailings deposition, is no longer simply about conducting a business practice and moving on – it has, rather, become important to consider the upliftment and wellbeing of communities as stakeholders, particularly beyond the mine life.
Fraser Alexander has, as of February, been formalising an ESG system across the business.
Torres-Cruz highlights that collaboration between mining companies and academia is also more vibrant than ever, and he believes that the Brumadinho dam collapse, which killed 270 people near Vale's Córrego do Feijão operation, in Brazil, in 2019, was a watershed moment for the mining industry and a catalyst for more collaboration.
"The reality of tailings risks sunk in for a wider audience during that time, not just the mining specialists," he avers, adding that the tragedy sparked a greater sense of urgency for TSFs to be managed in a safer way, including through collaboration with peers, academia, communities and suppliers.
The interaction between academia and mining companies has helped researchers to pose better and more targeted research questions based on what happens in the field, which, in turn, helps to generate more actionable insights for mining companies.
Historically, academia struggled to get funding to pursue and develop research ideas, but mining companies have become more eager to support these efforts in exchange for insights. Additionally, researchers now have better access to mine sites to gather information, which has historically been challenging, adds Torres-Cruz.
Collaboration between mining companies and other stakeholders has made operations more transparent and accessible and, therefore, safer, as people could be held accountable by more than one party.
He also stated during the webinar that mining companies' representatives are also visiting classrooms and talking to students more often, in a knowledge-sharing exercise, consequently providing another level of value to their education, and awareness about safety in the industry.
Buthelezi agrees with Torres-Cruz that monitoring adherence to good construction practices is a starting point in making tailings deposition safer.
While Torres-Cruz says this should be followed by more partnerships and stronger communication among all stakeholders, Buthelezi says there is no one technology that can ensure safety throughout the life span of a TSF – rather, it is vital to continuously respond to risks as they arise.
Schoeman stresses that it is never any one event that causes a tailings catastrophe; rather, it is a number of smaller events that were ignored or not regarded as important and culminated in a major event that is easily triggered by a rainstorm or an earthquake.
Therefore, stakeholder engagement is one of the ways in which miners can manage TSFs on the technical and geophysical aspects, as well as organisational aspect of operations.
The experts hope that the industry and stakeholders will continue to build on one another's strengths to build safer TSFs.