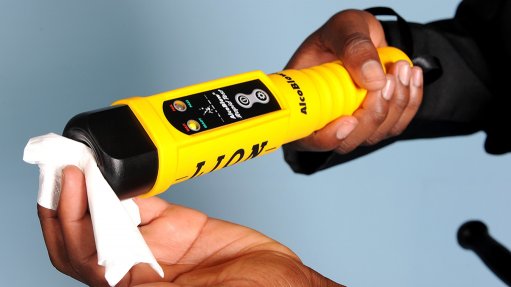 BIG BLOW Covid-19 has caused enough problems, mining should not need to worry about testing as well
Increased concerns over the spread of Covid-19 have spurred medical equipment supplier ALCO-Safe to develop a safer way to conduct breathalyser tests on workers in heavy industrial sectors.
"Workers and security personnel are at risk as testing must be conducted in close proximity," says ALCO-Safe MD Rhys Evans.
He explains that the new way of testing involves the use of a bracket, a recyclable 30-cm-long single-use straw and a sanitising wipe in conjunction with the ALCO-Safe Lion ALCO-Blow rapid testing device.
The bracket, designed specifically with Covid-19 in mind, is a steel frame mounted to a wall or pole and requires that the person being tested stand about one meter away from the apparatus.
Using straws with the Lion ALCO-Blow is also a new concept, and allows for more focused, short bursts of air to be assessed by the breathalyser. "It is important that each straw is discarded after use for recycling," stresses Evans.
The person being tested will then use the sanitising wipe to wipe down the apparatus before the next person is tested.
"The person controlling the device stands two metres away from the device and will need to intervene only if an alarm signalling a positive alcohol reading were to sound," he says.
Evans points out that the testing device is best suited to the mining and industrial sectors during this taxing period, adding that although other breathalysers offer a more detailed result, those require a longer, deeper breath to be used on the apparatus, which increases the possibility of contamination.
He adds that most of the mines that use the company's equipment already have the Lion ALCO-Blow on site, and all that is required to implement the full system is the delivery of straws, wipes and brackets.
ALCO-Safe contracted a steel manufacturer to manufacture the brackets, but this had to be halted in the wake of the countrywide lockdown implemented on March 27. However, the first brackets are due to be completed and delivered in a few weeks, subsequent to the partial lifting of the lockdown in May.
Evans also explains that the company is sourcing, selling and distributing masks, alcohol-based handwash and gloves to maintain its workflow and supplement its income.
"This is in addition to the other essential services and products that we have in our portfolio," Evans concludes.