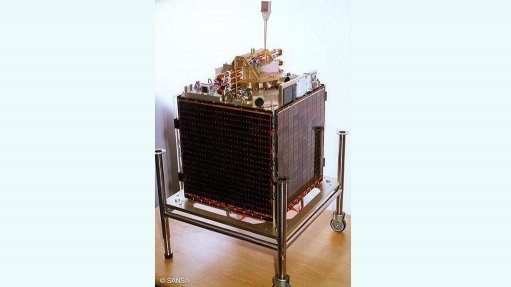 SunSat-1, on a ground handling trolley
Photo by: SANSA
The South African National Space Agency (Sansa) last month commemorated the twenty-fourth anniversary of the launch of SunSat-1, on an American Delta II rocket from the then Vandenberg Air Force Base (now Space Force Base) in the US state of California.
SunSat-1 was not only the first South African-designed and built satellite to reach space, but also the first spacecraft designed and developed in Africa to do so.
Developed by engineers and technologists at Stellenbosch University (hence its name), SunSat-1 did not just 'come into being'. It followed years of research and work, including on a previous, abortive, and for a long time secret, State satellite programme, which developed significant expertise in South Africa. However, SunSat-1 was totally unrelated to the cancelled programme.
"SunSat-1 catapulted South Africa into a technology jump from large to micro-sized satellites (at that stage unique in the world)," highlighted Sansa acting portfolio management executive Hendrik Burger. "The success and experiences of this satellite paved the way for other South African satellites such as the microsatellite SumbandilaSat, CubeSats ZACube-1 and ZACube-2, and other internationally exported satellites and components using the homegrown South African engineering ingenuity."
SunSat-1 was launched on February 23, 1999. Henceforth, Sansa will celebrate February as National Spacefaring Month. (SumbandilaSat was launched on September 17, 2009, followed by ZACube-1 on November 21, 2013, and ZACube-2 on December 27, 2018.)
"Until the SunSat-1 launch, South Africa was primarily a supporter of other nations' space missions and net importer and consumer of space technologies developed elsewhere," pointed out Sansa science engagement manager Dan Matsapola.