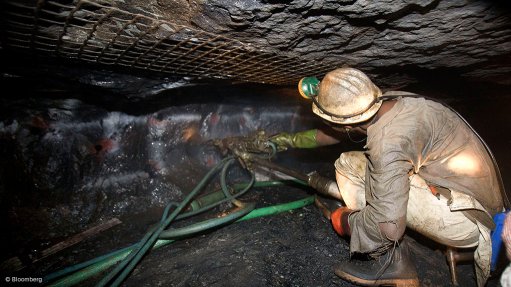 DOUBLE CONCERN Using people in deep-level operations is a challenge for mining companies because not only does making the underground environment suitable for workers become more costly but the risk to mineworkers also increases
Photo by: Bloomberg
The South African mining industry is committed to mechanisation in its deep-level mining operations, with major gold and platinum producers having announced their intent to modernise their operations, says Centre for Mechanised Mining Systems (CMMS) director Dr Declan Vogt.
He says many platinum mines are implementing mechanisation, with about 30% of the country's current underground platinum production coming from mechanised mines.
Vogt adds that the gold mining industry has a more difficult task in terms of mechanisation, owing to orebodies generally being steeper than those of platinum mines. However, he notes that gold producers AngloGold Ashanti, Sibanye Gold and Gold Fields have plans to introduce new technology, with some already in production.
He tells Mining Weekly that the steps taken by the mining companies in mechanising their operations are encouraging because "as mines get deeper, the environment becomes more difficult, the rock is hotter and the stresses are higher, leading to greater seismicity".
He says using people in deep-level operations is a challenge for mining companies because not only does making the underground environment suitable for workers become more costly, but the risk to mineworkers also increases.
"However, mechanisation offers a solution – fewer people are exposed to risk and, potentially, if there are fewer people underground, they can be supplied with personal environmental zones, rather than the mine having to cool the entire mine."
Mechanisation is beneficial – it removes people from risk, increases productivity and potentially reduces costs, while opening up new orebodies that would otherwise not have been economical to extract, Vogt says.
He adds that, besides heat and seismicity, travel time also becomes a major issue in mining at depth without mechanisation.
Industry Outlook
Vogt tells Mining Weekly that, while deep-level underground mines will always be more costly than opencast surface operations, "South Africa has some valuable resources that are accesible only through deep-level mining, including the deeper Witwatersrand gold and future deep Bushveld platinum"
.
These resources are large and it is possible to mine them cost effectively, he says, adding that deep-level mining will, therefore, continue in South Africa for many years.
Further, Vogt says the mining industry now understands the environment much better than it did in the past and, therefore, it is able to design mines in a way that limits seismicity.
Industry also understands the requirements for an environment that is suitable for humans, which enables mining companies to ensure that temperatures remain low enough to prevent conditions such as heat injuries and heatstroke.
"Developments, such as the introduction of nets into stopes to remove the hazard of small rockfalls, enable us to mine more safely; however, more can be done to implement a safety culture," says Vogt, adding that "the safest mine is one without people exposed to risk. Therefore, moving to mechanisation will improve safety significantly"
.
Meanwhile, Vogt tells Mining Weekly that some of the technologies which are on the cusp of being widely deployed include personal locator beacons that can be used to locate lost mineworkers who often require urgent medical care, as well as technologies for determining the location of loose rocks using thermal imaging.
Furthermore, there are also machines that can undertake much of the entry inspection process before mineworkers get to site, "thereby improving the speed and quality of entry inspection".
Remote controls are also being introduced to enable operators to have better oversight over their machines while standing in a safe area.

"All these technologies promise to improve safety if they are introduced into mines that have a good safety culture," he concludes.