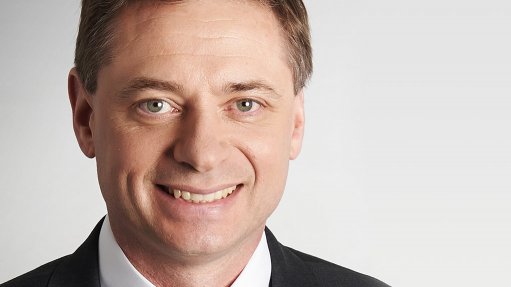 PAUL FOUCHE Fasken Martineau advocates for ongoing training and monitoring to ensure health and safety in mining
South Africa is making progress in legislating and monitoring compliance with health and safety regulations, says commercial law firm Fasken Martineau, noting that significant amendments to the Mine Health and Safety Act are currently being considered and expected to be passed by Parliament before the end of the year.
Fasken Martineau South Africa partner Paul Fouche, states that various aspects of health and safety legislation, which are currently under review, are expected to provide some direction on contentious issues regarding mining companies' liability and health and safety obligations.
"What is most noteworthy about the Bill is that, as it stands, it provides for significant increases in penalties and more stringent obligations regarding training, making it compulsory to provide formal training for mineworkers.
"I think the emphasis on training is great, as regular and constant training and monitoring of mineworkers on how to do their work safely and with due regard to hazards and risks remain a cornerstone of any successful preventive system," Fouche says.
He also tells Mining Weekly that some of the law firm's mining clients are anxiously awaiting the outcome of the silicosis class action before the South Gauteng High Court, which was filed against 29 gold mining companies in 2012 on behalf of about 15 000 mineworkers.
"The case emphasises the limitations of present compensation legislation and the need to consider reforms. Although the central question is whether mining companies complied with their legal duty to take reasonable steps to provide a safe workplace, it requires a much wider debate.
"It is about how our society is willing to balance the economic benefits derived from inherently dangerous activities such as mining, with some of the often inevitable consequences resulting from such high-risk activities," he explains.
Fouche adds that other recent important regulatory changes include the Department of Mineral Resources' (DMR's) recently published guidelines on compiling a code of practice (COP) on risk-based fatigue management, which requires mining companies to compile and implement a code that monitors fatigue and acknowledges it as a factor when planning operational activities and health and safety interventions.
Further, he notes that the mining industry is also constantly grappling with the issue of who carries the health and safety obligations when the mining areas of two or more mines overlap. The regulatory process provided for in the legislation to resolve these issues is cumbersome and time consuming, explains Fouche. Fasken Martineau has advised several clients dealing with these challenges.
"Our research pertaining to this has found possible alternative means to address these issues. The DMR is aware of these issues and, going forward, the hope is that increased regulatory flexibility would greatly assist investments in the mining industry," he elaborates.
He further notes that mining companies now also have to compile and implement a COP on the safe use and operation of conveyor belts, and comply with the recently published regulations dealing with trackless mobile machinery, the remaining parts of which will come into operation on May 27, 2015.
"The regulations require miners to implement measures to ensure that the mobile machines have automation functionality that enables them to detect the presence of pedestrians and other machines, to warn machine operators and pedestrians of such presence and to automatically slow down the machine to a safe speed, which is aimed at enhancing mineworker safety and reducing the number of accidents caused by these machines," Fouche concludes.