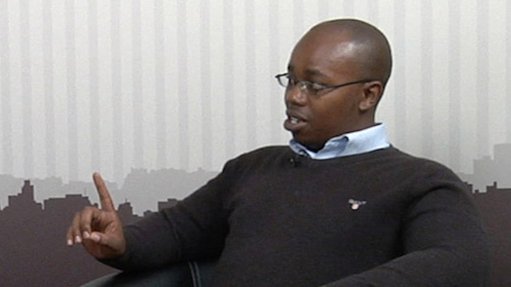 ABONGILE MDINGI Diversification towards base metals is imminent in South Africa
South Africa's base metals sector is underdeveloped, owing to neglect and disinterest, says base metals explorer Horomela Resources, which is undertaking the first phase of its noninvasive prospecting programme on 14 zinc, copper, silver and lead properties in the Namaqualand region of the Northern Cape.
Horomela CEO Abongile Mdingi explains that this neglect is not because base metals are unattractive or unprofitable, "but mainly because the sector is not well understood by the current captains of industry". This is primarily a result of the historical success of the gold, platinum, diamond and coal mines that have formed the backbone of the South African economy.
"For more than a century, the exploration focus of mining companies has been to expand and explore the same four commodities. It's a case of continuing with a mining strategy that has worked for 100 years," Mdingi explains.
Following the crash in commodity prices last year, specifically those of gold, platinum, iron-ore and coal, it has become evident that the previous mining strategy is no longer sustainable, Mdingi adds. Thus, he believes diversification to base metals – such as zinc and lead, which have outperformed the commodity market and have a positive long-term price outlook – is imminent.
"Diversified miner Vendanta Resources' Gamsberg project – currently the world's biggest undeveloped zinc deposit – should tell you that South Africa is right up there with the other base metal producers worldwide."
Mdingi believes that South Africa fares very well in terms of base metals reserves. "If you look throughout the Northern Cape and the North West, you will find millions of hectares of dormant land that has the potential to host base metals."
Moreover, he believes that the Northern Cape areas of Keimoes, Kenhardt, Prieska, Namaqualand and Sutherland have high copper- deposit potential and could lead to huge copper discoveries in the future. "What the Northern Cape requires at this point is further exploration."
For the next decade, Horomela will focus on consolidating undeveloped deposits and build a large base metals mining company that will be the biggest employer and biggest community contributor in South Africa.
"The focus is to solve the South African key issues of poverty and unemployment," Mdingi says.
Exploration Activities
The Department of Mineral Resources awarded Horomela prospecting rights for all 14 of its properties in January. The rights collectively cover about 150 000 ha and border the Gamsberg project.
Mdingi says, during its Namaqualand prospecting programme's first phase – which started last month and is expected to conclude in November – the company's in-house technical team will collect and interpret geophysical, geochemical and aeromagnetic data from all the properties.
He adds that the results will enable Horomela to grade the properties, "from the most lucrative to the least appealing, before continuing with further prospecting".
If the results are favourable for some or all of the properties, a drilling programme will be commissioned to declare a maiden inferred resource. "Horomela will then seek funding to take the project from the prefeasibility study (PFS) to the bankable feasibility study (BFS) stage," Mdingi says, further noting that the company will start mining- right application processes following the results of the PFS.
He expects that obtaining funding should not be a problem, as base metals prices will have recovered by the time Horomela is ready to conduct the PFS. Further, supplies of zinc, lead and copper are dwindling, which will boost those prices exponentially in the near future.
"Horomela, as the only 100% black-owned base metals mining and exploration company in South Africa, will definitely experience a rise in its value proposition," he comments.
Moreover, Mdingi notes that market sources have estimated that a supercycle for zinc, lead and copper will begin in 2017 and will continue for at least seven to ten years thereafter. Horomela aims to have the majority of its properties at BFS stage by 2019, which will enable the company to exploit supply gaps, owing to mines that are nearing, or have reached, the end of their life.
Current data suggests that Horomela's primary focus will be on its significant zinc reserves, namely deposits on the Koeris 54, Rozynbosch 41, Hoogoor 37 and Aroams 57 farms.