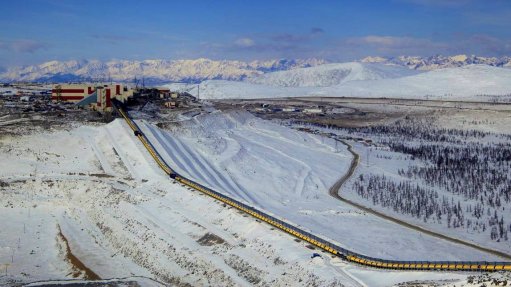 Copper concentrate production started at Russia's largest undeveloped copper deposit on Monday following a ceremony overseen by President Vladimir Putin via video link.
The long-awaited Udokan project in Russia's far east is coming on stream at a challenging time. The United States imposed sanctions on its operator - Udokan Copper - in April as part of a wave of restrictions placed on Russia due to its activities in Ukraine.
Copper prices also fell 14% in 2022 and are flat so far this year due to weaker than expected demand.
The project, however, relies on its proximity to top metals consumer China and on demand there, as well as future demand from the global green energy transition.
"Go ahead," Putin said during the ceremony, broadcast by state TV.
The processing plant at Udokan will produce sulphide copper concentrate with 40% to 45% metal content, the company said. It plans commercial sales this year, but has not disclosed potential buyers yet.
Once the first stage of the metallurgical plant is launched in 2024, Udokan will be able to handle up to 15-million metric tons of ore per year, with annual production of up to 150 000 tons of copper in the form of copper cathode and concentrate.
The deposit is the largest in Russia with an estimated 26.7-million tons of copper resources. It has been untapped since its discovery in 1949 because the technology didn't exist to exploit its unique and difficult-to-extract ore.
In the 1970s, a student at the Moscow Mining Institute researched the idea of a "clean" nuclear blast to extract Udokan's ore, but that remained on paper.
Russian billionaire Alisher Usmanov bought the right to develop Udokan for $500-million from the government just before the 2008 financial crisis. It took 10 years to solve the technical challenges of the project, create a new geological model and start construction.
By 2028, Udokan plans to build the second stage of its mining and metallurgical complex, increasing annual capacity to 24-million to 28 million tons of ore and up to 450 000 tons of copper.