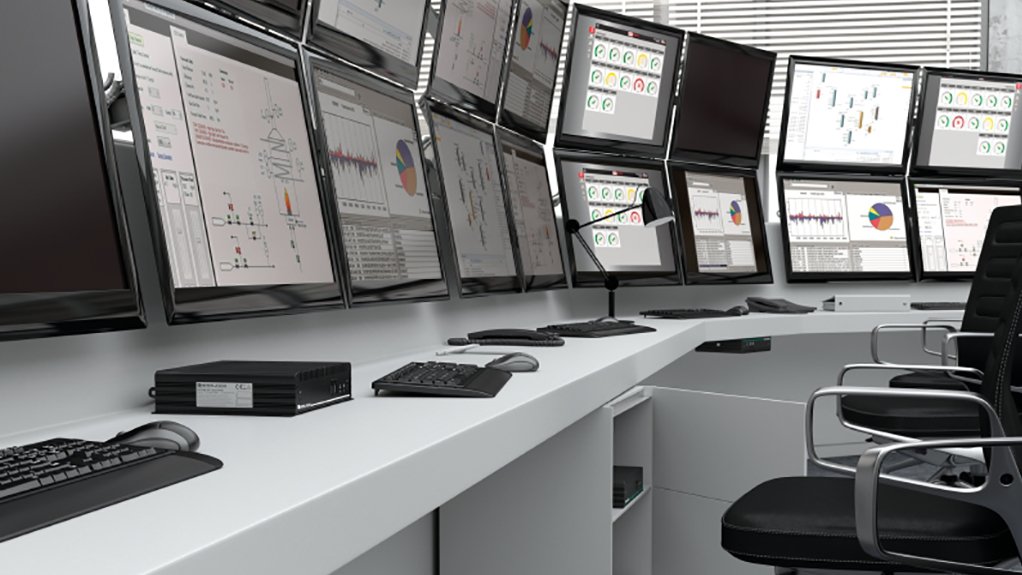 The control room is the hub for technical production, planning, and control processes. Using established thin client technology, current production statuses are transmitted to multiple monitors in real time so that all plant statuses can be monitored and operators can respond quickly. With digital DisplayPorts, the industrial BTC14 box thin client facilitates optimal visualisation of process parameters and production figures on up to four 4K monitors and ensures an optimal overview of the processes.
Uncompromising Reliability
No company can afford failures in the control room. With this in mind, users focus particularly on the reliability of hardware and software. To meet the high requirements, reliability was already a focal point for the BTC14 during the development stages. The new generation of reliable and rugged computers has been specially designed for harsh conditions and 24/7 operation in industrial environments. The design is based on thin client technology, which allows users to access data and information that runs on centralised servers, and thereby represents the user interface. Packaged in a compact aluminum housing, the industrial thin client is passively cooled and easily withstands temperatures from -20 °C to +60 °C.
Users can also rely on the BTC14 when it comes to system stability. With its dual-gigabit Ethernet interfaces, it supports the network redundancy of the control systems in the plants.
Future-Proof Due to Long-Term Availability
To avoid recurring, expensive, and time-consuming qualification work on the part of integrators and customers, BTC14 hardware consists only of selected industrial components. These ensure industrial suitability and increased long-term availability. The BTC14 therefore features a high-performance AMD Ryzen Embedded Processor—a part of AMD's product range that has been honed over a long period of time.
Increased Physical Security
In addition to maximum reliability and guaranteed long-term availability, all aspects regarding security are very important. It is important to look at all factors, from well-known solutions such as antivirus and firewall systems mapped by the software to additional protection that can be handled by the hardware. Completely enclosed housings—such as the IP4x housing of the BTC14—make it difficult for dust and flyings to enter.
Installing the equipment such that it is hidden or enclosed can protect it from being accessed by third parties. This prevents unauthorised access to devices and minimises the possibility of viruses being introduced and other attacks being executed. A variety of installation kits for the BTC14 give users an incredibly wide range of installation options. The rugged design and increased operating temperature range maximise the number of areas in which the BTC14 can be installed. The BTC14 can easily be stored in drawers or containers with a guaranteed circulation of air.
Especially in the case of vibration, there is a risk that unsecured connectors will come loose. With the BTC14, all interfaces can be mechanically protected. The connector is prevented from disconnecting and a secure cable connection is guaranteed, even under tension.
Low Maintenance and Administrator Involvement
In the past, where a large number of employees had previously set controls and pressed buttons, individual employees now take control of entire automation lines. Devices that are easy to integrate and use in the control room have a major impact on the amount of effort required on the part of individual employees. This can be influenced greatly by the range of suitable thin client software.
All box thin clients from Pepperl+Fuchs and thin-client-based workstations with industry-standard touch screen displays—remote monitors (RMs)—are equipped with specially developed thin client firmware based on Windows 10 IoT Enterprise LTSB: the Windows version of Microsoft with long-term support. RM Shell 5 thin client technology—patented for use in hazardous areas—is already in its fifth generation and is seen as the pioneer of its kind. The preinstalled RM Shell 5 firmware not only allows simple and intuitive configuration and commissioning of BTCs and RMs, but is also optimised and preconfigured for use with conventional process control systems used in process automation. Creating a profile allows direct access to virtualised workstations and servers with just one click. Even if a connection is interrupted—e.g., due to a power failure—the devices can automatically re-establish the connection when the "Auto-Connect" function is configured. The system settings allow for an unlimited number of connections to be re-established, and multiple backup connections can be set up if the connection to the actual host fails. After a predefined wait time, the BTC/RM then connects to the backup connection.
The additional VisuNet Control Center (VisuNet CC) administration tool makes life even easier for installers and users. All activated devices within a network can be set up, configured, and monitored via the Control Center from a central workspace at the same time, eliminating the need to make time-consuming journeys to individual devices. Even if a device is replaced or if additional devices are purchased, the settings and profiles of a source device can be transmitted to any number of target devices.