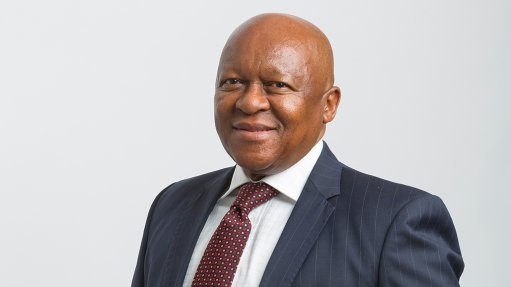 Royal Bafokeng Platinum CEO Steve Phiri
JOHANNESBURG (miningweekly.com) – South Africa's only rural community-owned mining company Royal Bafokeng Platinum (RBPlat), which delivered record dividend-yielding earnings and production in 2021, is close to completing its renewable energy study on the building of an embedded 30 MW photovoltaic (PV) power plant.
"It's almost complete…we're almost there, into renewable energy," RBPlat CEO Steve Phiri said of the company's planned modular PV initiative, for which an application for an environmental impact assessment (EIA) is being lodged. (Also watch attached Creamer Media video.)
On the time expected to be taken for the EIA approval, he said: "That's the only thing that could cause a delay because it's out of our own hands and in government hands. But given what President Cyril Ramaphosa has declared, we think that the red tape will be cut because it's so important for the national economy itself," Phiri added during a Teams interview with Mining Weekly.
Identifying opportunities to diversify into green energy supply is one of the key operational objectives of the JSE-listed company.
On the confidence in platinum group metals (PGMs) being generated by far-reaching international government strategy announcements on widespread uptake of green hydrogen, Phiri said: "The world is changing. This is a hydrogen world, looking forward at it. The world is decarbonising. We're going to clean hydrogen and that clean hydrogen needs the PGMs. We're going to go into fuel cells, and they need PGMs, particularly platinum, so there's a bright future for platinum.
"I've got absolute confidence in platinum's bright future, and if you listen to my peers, they're all singing the same song, because the world is moving in that direction.
"You hear government declaring hydrogen policy and Europe, with the European Union, declaring hydrogen policy. The president of the US is driving it. China is developing fuel cell vehicles quite exponentially. The world is moving in that direction," he added.
Questioned on his view of the best outcome for all stakeholders of the interest of Implats and Northam Platinum in acquiring RBPlat, he said: "It's quite a difficult one to answer because we have taken a conscious decision, and correctly so, that we do not want to be seen as taking one side or the other. We don't want to be partial."
The company would be looking at the best interests of the shareholders and the stakeholders.
"We've got two options, one Implats, the other is Northam, with different characteristics and delivering different synergies, with the Northam transaction being the combination of two good management teams and two good assets, and therefore bulking up the cash flows and their return to shareholders quite quickly and easily. They are distant from the area and therefore it lacks those operational synergies when compared with Implats, which is contiguous with RBPlat and the question of access from one mining area to the other and combining management teams becomes easy. This also extends the life of the lease area, and that will help to sustain jobs.
"Both have strong cash flow potentials that will increase the dividend flow. So, it all depends on what you are looking at, but as the board, we're dictated to by what is on the table, as not only a credible, but also an executable, transaction.
"But what is important to repeat is that we only have one offer on the table, which the shareholders are considering, and that offer is from Implats. We should not pretend that there are two competing bids on the table for the shareholders to consider, there's only one offer on the table and that's the Implats offer. When the other offer comes, depending again on how good it is for shareholders, we'll make that decision.
WATERKLOOF HILLS ESTATE AND SCHOOL
An impressive RBPlat legacy is the Waterkloof Hills Estate, where more than 5 000 people are living, and the primary and secondary schools, where 95% of the 750 pupils who have enrolled are RBPlat employees, who own homes in the estate. (Also see attached pictures.)
"We have 1 400 to 1 500 families living in the estate. It's really our biggest pride when you look at that and you say you are creating a future for the children. Also created is stability in the homes of our own workers. They can walk their children to school, which is not only a school but a wonderful facility.
"It's really a mouth-watering pride that comes over one. I was at the school last week and I walked around, and I said wow, did you ever dream that this wonderful facility will belong to our own workers, sitting on the school governing body, dictating who is the principal, who teaches their children, who brings up their children. If there is any benefit you can bring to the workers, it is to give them a decent lifestyle, and this is what we have done, beautiful houses with a beautiful school for the beautiful children," he enthused.
LABOUR UNION ENGAGEMENT
On the closeness of RBPlat to its unionised workforce, he said: "Relationship with the people is so important. You will have differences of opinions time and again, but the most important thing is that if there is a rapport, whenever a difference arises, it does not result in a confrontation, but it results in an engagement to seek solutions, and that has helped quite a lot.
"We've adopted a philosophy of being the people who we say we are and treating people with respect, no matter their seniority, and that has helped quite a lot. Therefore, if people feel that they are taken seriously and they are respected, they do not become acrimonious when there is a difference of opinion. They are non-confrontational… and that is the nature of the relationship," Phiri added.
RBPlat's production guidance for 2022 is forecast to increase to between 4.65-million tonnes and 4.90-million tonnes at a four-element (4E) built-up head grade of 3.90 g/t, yielding between 485 000 oz and 505 000 oz 4E metals in concentrate. Group cash unit costs are forecast at between R16 500 and R17 500 per 4E ounce.
Total tonnes hoisted last year increased by 12.1% to 4 639 000 t as volumes rose at RBPlat's Bafokeng Rasimone platinum and Styldrift platinum group metals mines. Bafokeng Rasimone tonnes hoisted increased by 11.9% to 2 434 000 t, and Styldrift tonnes hoisted increased by 12.2% to 2 205 000 t.
Total tonnes milled increased by 16.0% to 4 628 000 t. Merensky tonnes milled increased by 7.9% to 3 546 000 t, as Styldrift continues to ramp up. Upper group two (UG2) reef tonnes milled increased by 53.7% to 1 082 000 t, in line with increased UG2 volumes from Bafokeng Rasimone platinum mine North and South shafts.
Overall built-up head grade decreased by 1.8% to 3.86 g/t 4E, with built-up head grades reducing by 1.5% at Styldrift and 2.3% at Bafokeng Rasimone.
The reduction in head grade was attributable to higher on-reef dilutions experienced on our Merensky mining horizons at Bafokeng Rasimone and Styldrift, as well as the increased contribution of lower grade South shaft UG2 ore, to the overall ore mix.
Improved volumes combined with the lower recovery yielded a 11.5% and 10.7% increase in 4E and platinum metals in concentrate, respectively. The 4E metals in concentrate amounted to 467 000 oz and platinum in concentrate equated to 301 000 oz.