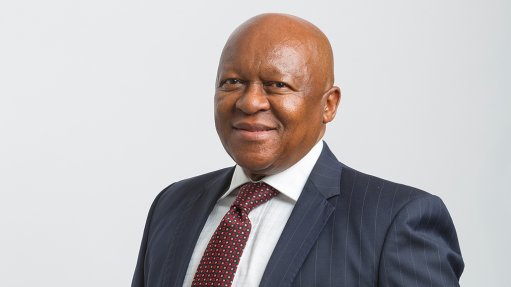 Royal Bafokeng Platinum CEO Steve Phiri.
JOHANNESBURG (miningweekly.com) – Royal Bafokeng Platinum CEO Steve Phiri on Tuesday applauded President Cyril Ramaphosa's energy plan, which involves the introduction of new generation capacity to the grid as quickly as possible to give Eskom the required headroom to carry out much-needed maintenance on its ageing coal fleet.
Royal Bafokeng Platinum is a community-controlled midtier platinum group metals (PGMs) company which owns and operates the Bafokeng Rasimone Platinum mine (BRPM) and the Styldrift PGMs project, which is ramping up to steady state.
"I think the President needs to be applauded. He couldn't have done it better in the circumstances – freeing up development of green energy and access to the grid, allowing people to develop and help the power situation in the country," said Phiri during a Zoom interview with Mining Weekly. (Also watch attached Creamer Media video.)
Royal Bafokeng Platinum, which released another dividend-yielding set of half-year results on the back of a 4.5% increase in PGM ounces to 225 500 oz, is itself moving steadily towards generating 98 MW of its own clean, green solar power, which will give it energy security and help reduce rising mining inflation.
The JSE-listed company is close to completing the feasibility study for the solar plant, which will be outsourced to a third party.
"We'll be consuming the power generated and the beautiful thing is that we only have to register access into the grid. I know of quite a number of projects of this nature in the Rustenburg area, where we are operating," said Phiri, who expects the cumulative effect of solar plants to alleviate power shortages and spur economic development in the region, "so it's encouraging".
Coming with the solar energy is also decarbonisation, which fits into work being done by the company to draw up a roadmap to achieve net zero carbon emissions by 2050, with lower diesel consumption being targeted.
GREEN HYDROGEN
On green hydrogen being generated on site to power mobility, Phiri said: "Hydrogen, yes, but not now, particularly since we're still ramping up Styldrift to steady state and that is the main focus at this stage. But once it's at steady state, we will bring hydrogen in in order to eliminate diesel consumption gradually."
Mechanised mining is proving more challenging than expected at Styldrift – a mechanised underground mine, with an average mining depth of 680 m.
"Mechanised mining does not have a big footprint in this country, where there are very few mechanised mines. The orebody also dictates the manner and complexity of mechanisation. The mining method is there, it is known, but it must fit into the orebody itself and that is where we are finding some challenges with quite a number of geological problems, and that hampers progress towards steady state.
"The other thing we are seeing quite frequently is the availability of engineering skills, especially for the fleets and that impacts on the availability of the fleets themselves, and if you don't have availability at the percentage that you require, then that impacts on hoisting. The turnover of skills is also quite high, but we're getting there," said Phiri.
Available to help with training is the test mine at Royal Bafokeng Platinum's Maseve operation. The test mine is a Mandela Mining Precinct initiative open to all mines for the development of mining skills including mechanised mining skills.
Still on the education and training front, Royal Bafokeng Platinum is opening a primary school and secondary school on Friday, which it project-managed in record time and which it will also continue to maintain.
Mining Weekly: What, in your view, should be the biggest takeaway from today's presentation?
Phiri: One of the biggest takeaways is that we exhibited our newest black female chief financial officer, Rotshidzwa Manenzhe, the first in this company since we listed on the stock exchange. Another takeaway is that even though Styldrift has given us nightmares, problems and what have you, we think we're on top of the problem and that Styldrift will reach steady state. The mining footprint is there, all the right things are being done or have been done, and we're confident. Another takeaway is the absolutely wonderful performance of BRPM on a continuous basis. They have shot the lights out, they continuously exceed plan, and we're proud of those young guys at BRPM, so this company is in the right hands from an operating management point of view, notwithstanding the challenges that we're experiencing in a difficult operating environment at this stage.