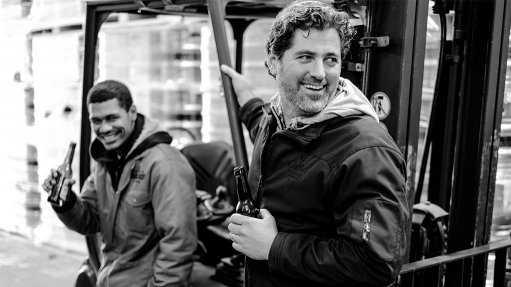 AN ACQUIRED TASTE Awareness about craft beer is growing rapidly throughout South Africa
Despite craft beer sales accounting for only a fraction of the South African beer market, there is still significant room for growth in the market as consumers become more educated about craft beer, says Jack Black Brewing Company marketing coordinator Frans van Staden.
He tells Engineering News that awareness about craft beer is growing quite rapidly throughout the country, which bodes well for craft breweries.
"We started with an all-malt lager-styled beer, which is our flagship product. This allowed us, over time, to introduce other beers like pale ale, amber ale and Indian pale ale to the South African market, says Van Staden.
He believes the future of craft beer in South Africa looks bright, as several craft breweries are producing consistent high-quality beer, which will help the sector grow and encourage consumers to trust craft beer.
However, Van Staden says a lot of low-quality and inconsistent beers are also being brewed. "Nevertheless, I predict that, in the years to come, a few breweries will be in the business for the right reasons and will rightly see some good growth, while others will close their doors."
Van Staden says it is not an easy task to classify someone as a typical craft beer drinker. "I guess it comes down to the person – people who are willing to try new things, experiment and support their local economy."
He adds that Jack Black Brewing Company uses local malts and hops and is constantly incorporating more local ingredients in its beers. However, the company does use some specialty malts, which it imports from Europe, as well as some hop varieties it imports from the US.
Van Staden says, however, that beer can be made with basic equipment. "Anybody can brew beer. One of our favourite US craft breweries, Sierra Nevada, started with second-hand equipment from the milk industry and now it is one of the biggest craft breweries in the US." He adds that one of the most important aspects of starting a brewery is obtaining all the necessary licensing to do so.
Van Staden says the key to building a brewery is passion, adding that, as Jack Black Brewing Company's beer is brewed in small batches, it will always be a hands-on process.
"Our innovation comes from the inspiration we get from the natural ingredients we use in the brewing process. Adding some new malts or different hop varieties can greatly change the flavour, colour and aroma of the beer. The possibilities are endless," he concludes.