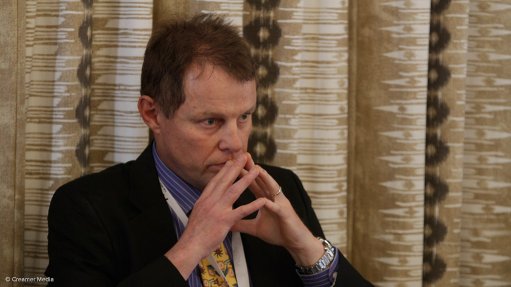 Rockwell CEO James Campbell
Photo by: Duane Daws
JOHANNESBURG (miningweekly.com) – Diamond miner Rockwell Diamonds on Tuesday said it had ended the 2016 financial year on a solid base as the fourth quarter showed "positive progress" following a recent strategic and operational review and restructuring.
After suffering significant losses in the third quarter of 2016, the TSX- and JSE-listed firm continued to implement key restructuring decisions to get the company back on track during the three months to February 29.
"This quarter concluded a year that saw Rockwell repositioning itself fundamentally by reducing overhead costs, selling the noncore Tirisano asset outright, completing the closure of Niewejaarskraal (NJK), bringing Saxendrift closer to closure and acquiring two new mines with a third [under] construction," said CEO and president James Campbell.
Rockwell narrowed its gross loss before amortisation and depreciation from C$5.1-million in the fourth quarter of 2015 to C$236 000 for the quarter under review.
However, the loss attributable to owners widened to C$17.4-million in the three months to February 29, compared with the loss of C$8.2-million in the comparative period last year, owing to the impact of noncash charges, such as impairments and accelerated depreciation on some unusable plant and equipment at NJK.
The loss for the full 12 months to February increased to C$27.7-million, compared with the loss of C$14.5-million the year before.
Basic loss a share for the 2016 financial year doubled from 25.89c in 2015 to 51.79c.
During the fourth quarter under review, the average cash operating cost declined 18% to $9.1/m3, while improved carat recoveries over the third quarter with better prices, coupled with the benefit of a weaker rand, resulted in a reduction in operating losses, Campbell noted.
The group had also repaid $6.1-million of long-term debt during the full financial year under review.
Fourth-quarter revenue decreased 39% to $10.4-million, owing to the exclusion of goods sourced from Tirisano contract miners and a decline in the per carat value of goods from Saxendrift as the operation reached the end of its economic life.
The average price per carat sold was $1 448, a 6% decline on the prior quarter.
"The recommissioning of Wouterspan and increased throughput at the Remhoogte-Holsloot Complex remain key priorities for the company in the short term, as it continues to pursue its strategic processing target of 500 000 m3/m of gravel," he said.
Further, Rockwell was moving towards its decision to outsource mining on a fixed pay-per-volume delivered basis, which represented a "fundamental change" in Rockwell's business and operations model and would transfer the volume risks related to earthmoving vehicle availability to the mining service provider.