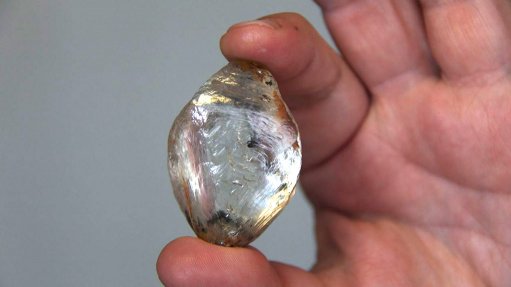 Photo by: Rockwell Diamonds
VANCOUVER (miningweekly.com) – South Africa-focused alluvial diamond miner Rockwell Diamonds is in a "state of despair", its incoming chief executive said on Thursday, adding that the company will implement a comprehensive operational turnaround.
"From my observations to date on the general health of the business and understanding of the main contributors to its current position, it is clear that the business finds itself in a state of despair for a number of reasons," stated incoming CEO Tjaart Willemse, who will take the reins from James Campbell by the end of November.
He cited "a general breakdown in controls over a considerable period of time" and nonadherence to the company's procurement policy.
"This, coupled with inadequate work planning and the lack of project front-end loading has led to a series of financial management concerns and business risks. Blurred lines of accountability, both within the organisation and between the company and some of its service providers, does not bode well for proper management and control of the business and a perceived lack of a sense of urgency further exacerbates the potential for failure," Willemse cautioned.
He said the board-led intervention, with himself as the new leader, will continue with the full cooperation of the remaining management and the outgoing CEO.
"With appropriate controls in place and with the right team to execute it, Rockwell can be turned around to deliver good shareholder value," Willemse stated.
TURNAROUND STRATEGY
Rockwell will immediately move to outsource mining services and sell its earthmoving vehicle (EMV) fleet, which had been underperforming. Rockwell advised that the mining services contract is structured to externalise the risk from variance in mining volumes and equipment availability.
TSX- and JSE-listed Rockwell has signed a five-year agreement with C-Rock Mining to provide contract mining services at Rockwell's Wouterspan mine, with a similar agreement to follow for the Remhoogte/Holsloot Complex (RHC). This is structured to mitigate the volume and availability risks associated with the company's EMV fleet and its uneven operating performance to date.
The contract provides for all mining and associated rehabilitation activities at a fixed fee per unit of material delivered at the plant.
Further, C-Rock will commission the third and fourth lines of the Wouterspan wet plant during October. The first two lines are being commissioning this month.
Rockwell will also review the current mining plan at RHC to reflect a reduced Rooikoppie resource and less economic Palaeo gravels, while the shutdown of Saxendrift mine is expected to be completed this month.
The company will also focus on exploration drilling and bulk sampling in the vicinity of Wouterspan, while looking at establishing a resource development strategy for the Middle Orange River (MOR) operations, to facilitate good business decisions for future production expansion or replacement.
Rockwell, which has been mainly focused on recovering alluvial diamonds, will also look at acquiring potential kimberlites, to increase stability in monthly output and cash flow, the company said.
Q2 RESULTS
Rockwell mining volumes in the second quarter, ended August 31, were 4% lower quarter-on-quarter and 8% lower year-on-year, owing to the planned scaling down of operations at Saxendrift, which was partly offset by a 10% increase in volumes processed at RHC.
MOR grades were down 7% quarter-on-quarter and 8% year-on-year, owing to reduced recoveries from the middlings material at Saxendrift (which was down 13%) and reduced grades at RHC (down 14%).
Sales fell 9% year-on-year to 4 849 ct.
Matters were compounded by a 21% drop in the value of sales to $7.6-million (excluding beneficiation). Total sales, including royalty contractors' production but excluding beneficiation, were also down by 14% on the first quarter and 16% on the comparable prior year period.
According to Rockwell, the average realised price per carat fell 16% quarter-on-quarter to $1 560.
Meanwhile, Rockwell reported some notable recoveries, including 33 diamonds larger than 20 ct, with 22 of these diamonds recovered at RHC, ten at Saxendrift and one at Wouterspan. Two larger diamonds of 157.99 ct and 129.65 ct were also recovered at RHC. Rough diamond inventory stands at 700 ct and will be carried over into the third quarter.
Rockwell's TSX-listed stock has lost 43% in value so far this year and on Thursday closed at C$0.09 apiece.