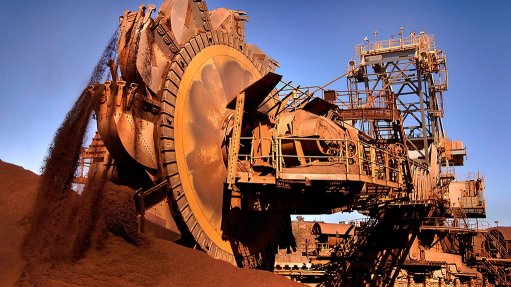 PERTH (miningweekly.com) – Diversified major Rio Tinto has reported another quarter of falling iron-ore production and shipments.
The miner on Wednesday reported that iron-ore shipments from the Pilbara operations had reached 71.5-million tonnes, down 8% on the previous corresponding period, and down 15% on the previous quarter.
Iron-ore production for the same period reached 71.7-million tonnes, down 6% on the previous corresponding period and down 15% on the previous quarter.
Rio told shareholders that the Pilbara operations had a challenging first quarter, as ongoing mine depletion was not offset by mine replacement projects, with delayed commissioning of the Gudai-Darri operation, where first ore is still forecast for the second quarter of 2022, and ongoing commissioning challenges at the Mesa A wet plant continuing to impact production ramp-up at Robe Valley.
Covid-19 constraints also impacted labour supply as the miner experienced increased cases on-site in the Pilbara following the Western Australian border opening in March, Rio said.
Rio was expecting increased production volumes and improved product mix in the second half with the commissioning and ramp-up of Gudai-Darri, commissioning of the Robe Valley wet plant and improved mine pit health. Full year shipments guidance remains unchanged at between 320-million and 335-million tonnes.
Meanwhile, copper production in the first quarter of 2022 was up 4% on the previous corresponding period, to 125 000 t, but down 5% on the previous quarter. The increased production came on the back of higher recoveries and grades at the Kennecott operation, but was partly offset by lower grades at Oyu Tolgoi and lower throughput at Escondida.
Aluminium production for the first quarter was down 8% on the previous corresponding period, and down 3% on the fourth quarter of 2021, to 736 000 t, owing to reduced capacity at Rio's Kitimat smelter, in British Columbia, following the strike which commenced in July last year.
The miner said that preparations continue for the Kitimat smelter to progressively restart from June 2022 with full ramp-up expected by the end of the year. All of Rio's other smelters continued to have stable performance, despite considerable challenges related to unplanned employee absences due to Covid-19.
Bauxite production for the first quarter of 2022 remained unchanged at 13.6-million tonnes, compared with the previous corresponding period, but was up by 4% on the December quarter of last year.
"We made notable progress during the quarter with the commencement of underground mining at Oyu Tolgoi following a comprehensive agreement reached with the government of Mongolia, completed the acquisition of the Rincon lithium project in Argentina, and signed a framework agreement at the Simandou iron-ore project in Guinea," said Rio CEO Jakob Stausholm.
"These projects are all aligned with our strategy of growing in materials essential to a decarbonising world.
"Production in the first quarter was challenging as expected, re-emphasising a need to lift our operational performance. We launched seven more deployments of the Rio Tinto Safe Production System, building on the achievements from the previous rollouts. As we ramp up Gudai-Darri, our iron-ore business will have greater production capacity and be better placed to produce additional tonnes of Pilbara Blend in the second half.
"We released an independent report on our workplace culture and are implementing all 26 recommendations to make positive and lasting changes. We also announced an agreement with the Yinhawangka Aboriginal Corporation on a new co-designed management plan to ensure the protection of significant social and cultural heritage values.
"These actions will ensure we continue to deliver attractive returns to shareholders, as we invest in sustaining and growing our portfolio, be a partner and employer of choice and progress our ambition to achieve net-zero carbon emissions," said Stausholm.