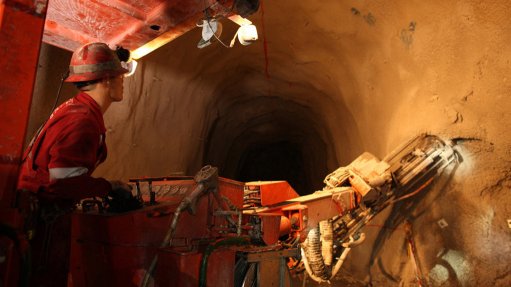 PERTH (miningweekly.com) – Diversified miner Rio Tinto has announced the restart of underground operations at the Oyu Tolgoi project, in Mongolia, after reaching an agreement with the government of Mongolia.
Rio said in a statement that the agreement will move the Oyu Tolgoi project forward, resetting the relationship between the partners and increasing the value the project delivers for Mongolia.
First sustainable production from the underground operation is expected in the first half of 2023.
"The commencement of Oyu Tolgoi underground mining operations demonstrates to the world that Mongolia can work together with investors in a sustainable manner and become a trusted partner. As part of our New Recovery Policy, I am happy to express Mongolia's readiness to work actively and mutually beneficially with global investors and partners," Mongolia's Prime Minister Luvsannamsrain Oyun-Erdene said.
Rio said on Tuesday that as part of the comprehensive package agreed between the project owners and the Mongolian government, Turquoise Hill Resources (TRQ) will waive the $2.4-billion Erdenes Oyu Tolgoi (EOT) carry account loan in full, comprising the amount of common share investments in Oyu Tolgoi funded by TRQ on behalf of EOT to build the project to date, plus accrued interest.
The Parliament of Mongolia has meanwhile, approved a resolution that resolves the outstanding issues that have been subject to negotiations with the government of Mongolia over the last two years. With this approval, the Parliament of Mongolia has required that certain measures be completed in order for resolution to be considered formally implemented.
To date, a number of conditions have been addressed including the waiving of the carry account loan; the improved cooperation with EOT; the implementation of measures to monitor Oyu Tolgoi underground development financing mechanisms and enhance environmental and social governance matters; the approval of the electricity supply agreement; and the establishment of a funding structure at Oyu Tolgoi that does not incur additional loan financing prior to sustainable production for Panel 0.
Rio told shareholders that it continues to work with the government of Mongolia and TRQ to finalise the remaining outstanding measures of resolution, namely the formal termination of the Oyu Tolgoi mine development and financing plan and resolution of the outstanding Oyu Tolgoi tax arbitration.
An updated funding plan has been agreed to address TRQ's current estimated remaining funding requirement for the Oyu Tolgoi underground project. Until sustainable underground production is achieved, Oyu Tolgoi will be funded by cash on hand and rescheduling of existing debt repayments, together with a prepaid copper concentrate sales agreement with TRQ.
Meanwhile, Rio and TRQ have amended the heads of agreement signed in April last year to ensure they appropriately fund Oyu Tolgoi. The capital forecast for the project is $6.925-billion, including $175-million of known Covid-19 impacts to the end of 2022.
Forecasted remaining underground capital expenditure is approximately $1.8-billion. A reforecast will be undertaken during the first half of 2022 to determine a revised cost and schedule estimate that will reflect any further Covid-19 impacts, any additional time-based impacts and market price escalation arising from resequencing due to 2021 budget constraints, and updated risk ranging reflecting the latest project execution risks.
Rio Tinto CEO Jakob Stausholm, said the agreement would see one of the world's largest copper growth projects move forward and firmly establish Mongolia as a global investment destination.
"This agreement represents a reset of our relationship and resolves historical issues between the Oyu Tolgoi project partners. We strongly believe in the future of this country and I am personally committed to ensuring that the people of Mongolia benefit strongly from Oyu Tolgoi along with our shareholders."
"I have visited Mongolia twice in the last few months and I cannot help but be proud of what has been achieved by our workforce, hand-in-hand with communities, suppliers and other partners. I would like to thank the many thousands of people involved for what they have achieved."
"The Oyu Tolgoi underground development will consolidate Rio's position as a leading global supplier of copper at a time when demand is increasing, driven by its role in enabling decarbonisation and electrification in the race to net zero. We will also explore additional opportunities to decarbonise the Oyu Tolgoi operations, including sourcing renewable power."
By 2030, the mine is expected to be the fourth largest copper mine in the world. It is a complex greenfield project comprising an underground block cave mine and copper concentrator as well as an openpit mine which has been successfully operating for almost ten years. It is also one of the most modern, safe, sustainable and water-efficient operations globally, with a workforce which is more than 96% Mongolian.
Since 2010, the project partners have spent a total of $13.4-billion in-country, including $3.6-billion of taxes, fees and other payments to the State budget. The size and quality of this Tier 1 asset provide additional expansion options, which could see production sustained for many decades, Rio said.
TRQ interim CEO Steve Thibeault said the company was very excited to be starting work on the undercut, which is critical to unlocking the immense potential of this world-class, high-grade deposit for the benefit of all stakeholders.
"Following the agreements with the government of Mongolia and the amended heads of agreement with Rio Tinto being put in place, we now have greater certainty and confidence to complete construction of this once-in-a-generation mine that, when finished, is expected to be one of the largest copper producing mines in the world and a generator of vast economic value and employment in Mongolia and of returns for our shareholders for years to come.
"I want to thank the government of Mongolia for its commitment to securing a balanced agreement that helps to advance the project while ensuring that all stakeholders, including the people of Mongolia, truly benefit from the development of this resource. This agreement says a lot about the positive environment for foreign investment in the country."