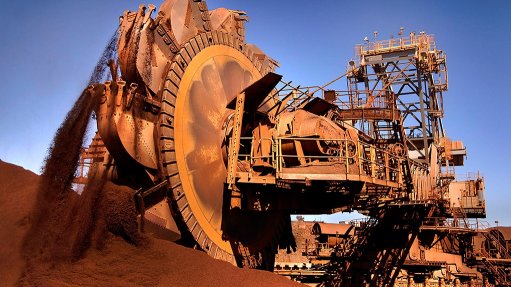 PERTH (miningweekly.com) – Mining major Rio Tinto has seen production declines across its portfolio of commodities during the three months to September, and has adjusted some of its targets for 2021.
"It has been another difficult quarter operationally and despite improving versus the prior quarter, we recognise the opportunity to raise our performance. We have consequently modestly adjusted our guidance," said CEO Jakob Stausholm, noting that the quarter did, however, demonstrate the resilience of staff in dealing with ongoing Covid-19 challenges.
"We are progressing against our four pillars and striving to make Rio Tinto even stronger, notably to become the best operator. This will ensure we continue to deliver attractive returns to shareholders, invest in sustaining and growing our portfolio, and make a broader contribution to society, particularly in relation to the drive to net-zero carbon emissions."
During the quarter under review, Rio rerpoted that iron-ore production for the third quarter declined by 4% on the previous quarter, to 83.3-million tonnes, while shipments were up by 2% to 83.4-million tonnes.
The decline in iron-ore production for the third quarter was attributed to heritage management, brownfield mine replacement tie-ins and project completion delays, which also resulted in an increase of SP10 production in the third quarter, which will continue in the fourth quarter.
Rio now expected iron-ore shipments from the Pilbara to be between 320-million to 325-million tonnes, down from the previous estimation of between 325-million and 340-million tonnes, following modest delays to completion of the new greenfield mine at Gudai-Darri and the Robe Valley brownfield mine replacement project owing to the tight labour market in Western Australia.
The Robe Valley brownfield mine replacement project remains on track for completion in 2021, although Rio noted that this was later than planned.
"The tight labour market in Western Australia continues to limit our access to labour and we have also experienced delays due to a tight global supply chain," the miner said.
The Iron Ore Company of Canada (IOC) pellets and concentrate full-year guidance has been reduced to 9.5-million to 10.5-million tonnes, down from the previous estimate of between 10.5-million and 12-million tonnes. The decreased production was ascribed to labour and equipment availability issues, which impacted product feed.
Bauxite production in the third quarter decreased by 3% on the previous corresponding period, to 14-million tonnes, with Rio telling shareholders on Friday that production was lower owing to equipment reliability issues and overruns on planned shutdowns at the company's Pacific operations.
Bauxite production for the full year is expeccted to reach between 54-million and 55-million tonnes, down slightly from the previous guidance of between 56-million and 59-million tonnes.
Aluminium production of 0.8-million tonnes was 3% lower than the third quarter of 2020, owing to strike action at the Kitimat smelter.
In October, Rio reached a new Collective Labour Agreement for its British Columbia operations, which includes the Kitimat smelter and the Kemano hydropower facility. The smelter will steadily ramp up following a period of reduced production owing to industrial activity.
The outlook for aluminium production for the full year has remained unchanged at between 3.1-million and 3.3-million tonnes.
Mined copper production of 125 200 t was also 3% lower than the third quarter of 2020 owing to lower recoveries and throughput at Escondida as a result of the prolonged impact of Covid-19, partly offset by higher recovery and grade at Kennecott in Utah and improved performance and increased mill feed at Oyu Tolgoi.
At the Oyu Tolgoi underground project in Mongolia, as a result of Covid-19 impacts and outstanding non-technical undercut criteria, first sustainable production will be no earlier than January 2023, instead of October 2022, subject to the timing of commencement of the undercut.
The full impact on the cost of the integrated project is subject to further analysis once the company has clarity on the timeline around the completion of the undercut criteria and ongoing Covid-19 restrictions, Rio said on Friday.
Mined copper production for the full year is expected at some 500 000 t, with refined copper prdouction to reach between 190 000 t and 210 000 t.