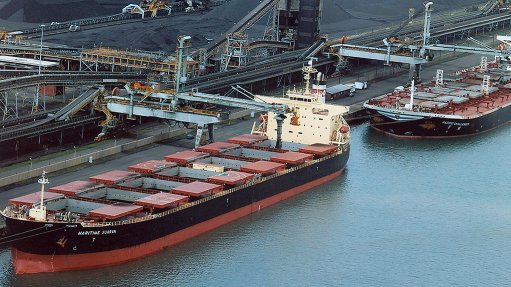 Richards Bay Coal Terminal
RICHARDS BAY (miningweekly.com) – The Richards Bay Coal Terminal (RBCT) last year exported 75.4-million tonnes of coal to set a new record and exceed its target.
The 5.6% increase over 2014's 71.2-million tonnes is seen as a strong achievement at a time of tough market conditions and low coal prices.
"We have managed to break our record in a tough market environment," RBCT CEO Nosipho Siwisa-Damasane told Creamer Media's Mining Weekly Online, which on Tuesday took part in a media visit to the terminal, where 6% of the R1.34-billion to replace ageing shiploaders has been spent so far.
The private-sector port, which is working well with State-owned Transnet Freight Rail and Transnet National Port Authority to boost South Africa's export revenue, expects to remain at the 75-million-tonne coal export level in 2016, which has begun with coal prices down at a low $48/t.
RBCT chairperson Mike Teke said that coal had maintained its position as the commodity generating the most export revenue and the coal mining industry, which had just secured a two-year wage agreement, was stable.
"But the coal price is very low. We'd like to see the price north of $90/t," Teke commented.
The equipment-replacement project, which is on track for completion in January 2018, has not been impacted by the decision of the contract winner, Sandvik Mining Systems, to disinvest from South Africa, RBCT engineering and project manager Bill Murphy assured journalists.
The low coal price has resulted in a slow take-up of the four-million tonnes allocated to 23 junior coal miners under the RBCT's Quattro scheme.
Of the total exports, 59% went to Asia, which was 7% lower than in 2014, and 19% to Europe, which was 6% down on 2014. On the rise were coal exports to Africa, which increased 7%.
On average, 27 trains a day served the terminal, 3.8% more than in 2014, with 73.9-million tonnes railed, and 925 ships were loaded, 17.7% more than in 2014.
Forty-two countries received coal from the South African terminal, which cut costs in order to maintain its staff complement at 504 employees.
Stockpile levels averaged 4.7-million tonnes, well below the eight-million-tonne capacity at the terminal, which is currently 28.29% black owned with black women holding 3.11% of its shares.
Because RBCT's 91-million-tonne capacity is still far from being taken up, talks with Transnet on the Phase 6 expansion have been discontinued for the time being.