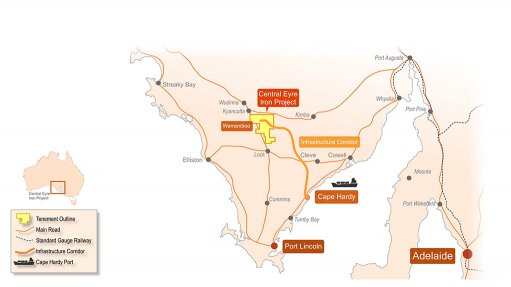 The mine plan review focussed on opportunities relating to early ore access and mine establishment costs
Photo by: Iron Road
JOHANNESBURG (miningweekly.com) – ASX-listed Iron Road on Tuesday announced that a review of the mine plan of its Central Eyre iron-ore project (CEIP), in South Australia, had identified lower upfront capital requirements and that it had accelerated the project's ore extraction.
The review, conducted by Thiess-RWE, focused on opportunities relating to early ore access and mine establishment costs, while leveraging efficiencies offered by the application and flexibility of continuous mining systems.
Iron Road said the upfront mine capital cost estimate, excluding prestrip, had been reduced by $130-million to $965-million.
The company explained that targeting of the initial areas of the orebody to optimise rapid ore delivery would ensure that the process plant could ramp up output of the CEIP's high-quality iron concentrate about two years earlier than the 2015 optimisation study timetable.
Iron Road said it was planning to commence a sole-source early contractor involvement (ECI) process with the mining contractor displaying the "greatest appetite" for exposure to a high-value, long-term mining services contract.
"The ECI process will be designed to ensure that the company and the selected contractor focused their "full collective abilities" toward generating a best-for-project outcome, with built-in and agreed stretch target objectives to meet all of our operational and financial objectives for the CEIP," Iron Road concluded.