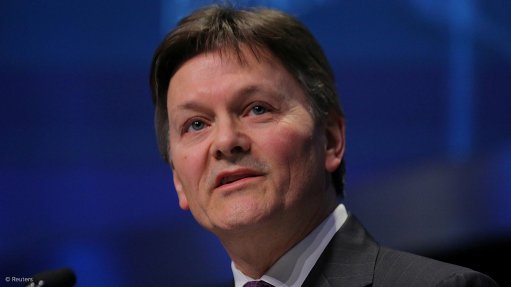 Barrick president Kelvin Dushnisky
Photo by: Reuters
VANCOUVER (miningweekly.com) - The world's largest gold producer by output Barrick Gold is looking towards a more sustainable future based on a leaner, more tightly owned portfolio, with future growth increasingly hinging on forming synergistic partnerships with former mining rivals.
With the gold price off to a strong start in the first few weeks of 2018, up 2.32% since the start of the year and trending above the psychological $1 300/oz mark, Barrick president Kelvin Dushnisky told attendees at a Vancouver mining conference that the company had come full circle in the aftermath following gold's historic bull run through the 2011s.
He recounted those years as ranking among the most difficult in the gold major's history.
"It was partnerships that laid the foundation for Barrick. Partnership has been at the heart of our culture from Barrick's earliest days, personified by visionary entrepreneur Peter Munk, and operations manager Bob Smith," he said.
Barrick grew at a breakneck pace at the height of the commodity super cycle to become the largest gold miner, with 27 active mines in its portfolio.
"But the unprecedented super cycle prompted us to focus on growth at all cost, and we lost some of our founding principles and discipline and made some ill-timed acquisitions. We forgot who we were for a time and what made us successful," Dushnisky said.
The Toronto-based company had spent the last several years transforming itself into a lean yellow-metal-pumping machine. It has transmuted itself into owning the lowest-cost portfolio in the industry, spread over some of the best mining jurisdictions.
Among the critical actions taken were shrinking the Toronto head office and decentralising the management structure, which had helped foster faster communication between Toronto and its global operations. This, he noted, allowed for much more efficient lines of communication from the strategy-setting head office, down to individual operations where they manage talent and daily operations.
The company has spent the past few years right-sizing its portfolio, still leaving it with the largest reserve base of any gold company at 85.9-million ounces in the compliant proven and probable resource categories.
The company has sacrificed about a million ounces of yearly output, shrinking from 6.2-million ounces in 2014, to about 5.3-million ounces of gold in 2017 for the sake of efficiency and improving the balance sheet. It has driven down all-in sustaining costs from $864/oz in 2014, to between $740/oz to $770/oz of gold in 2017, while slashing total debt from $13.1-billion to less than $6.4-billion currently.
Rival miner Newmont Mining is now nipping at Barrick's heels to become the world's largest gold producer, which had raised its 2018 production forecast to a range of 4.9-million to 5.4-million ounces gold. Newmont is already ahead of Barrick by market value.
ERA OF PARTNERSHIPS
According to Dushnisky, the number one challenge facing the gold mining industry today is replacing depleting reserves. However, with quality projects becoming ever scarcer and remote, increased permitting requirements are significantly adding to the project development timelines.
Alongside this critical need, it has become imperative for project proponents to gain a social licence to operate. It is imperative today to form successful First Nation and local community relationships and have a sustainable approach. This is where innovation and technological advances are helping to solve issues, he noted.
"There is no such thing anymore as 'expedited permitting' and remote locations are perceived to have increased environmental considerations to conform with than in the past."
Today, Barrick's portfolio looks very different from only a few years ago, after it divested noncore assets to focus on "fuller ownership" stakes in 12 mines currently. About 71% of the gold the miner produces come from four pillar mines in the Americas - Barrick Nevada, in the US; Pueblo Viejo, in the Dominican Republic; Lagunas Norte, in Central Peru; and Veladero mine, in Argentina.
Future growth will come from its feasibility-stage expansion projects including at Lagunas Norte, Goldrush, Turquois Ridge and at Cortez. They can contribute 1.2-million of quality ounces from 2020 onwards, at low costs.
During the company's recent rationalisation phase, it also drastically pared back its exploration budget. The 2014 exploration budget was $200-million to $240-million. That fell to a low of $125-million to $155-million in 2016, and increased to $185-million to $225-million in 2017. The capital budget, which was $2.4-billion in 2014 fell to between $1.35-billion and $1.5-billion in 2017. This has thrust all responsibility for finding and moving the next generation of gold mines further along the value curve onto juniors, with whom it is increasingly building early relationships with.
Barrick has also sought to diversify its capital risk and to find synergistic partnerships at its major development projects. This has seen the company entering into five major JV partnerships in recent quarters.
Among them are blockbuster deals such as the 50% stake sale in Veladero last year, for $960-million, to Chinese-based Shandong Gold Mining, following an earlier $298-million deal with Zijin Mining Group to develop the Porgera mine, in Papua New Guinea. Others include a JV with Goldcorp on Cerro Casale and Caspiche, in Chile; a copper partnership with Antofagasta at Zaldivar, also in Chile; and another base metals JV with Saudi-based Jabal Sayid.
Importantly, Dushnisky noted that these partnerships allow for long-term upside, while being predisposed to develop shared and more efficient capital funding strategies down the line. "These projects are a long term out, however, the five junior partnerships all pivot on the partnerships being formed in the early stages of project development and exploration," he said.
A case in point is Barrick's latest partnership, in which it in December optioned a 100% interest in the Eskay Creek property to Skeena Resources. Discovered in 1988, the former Eskay Creek mine produced about 3.3-million ounces of gold and 160-million ounces of silver at average grades of 45 g/t gold and 2 224 g/t silver and was once the world's highest-grade gold mine and fifth-largest silver mine by volume.
"Should Skeena find commercial resources there, it will draw heavily on old partnerships we've forged early on. Our partnership with the Tahltan First Nations has been among the best we've developed," he noted.
A renewed focus on brownfield exploration has also delivered some spectacular results for the company. In Peru, the Pierina and Lagunas Norte deposits are examples of the company's biggest exploration successes. The 4.22-million Lagunas Norte went from discovery to production in three years and is poised for life extension at lower costs.
In Nevada, the Goldrush discovery was one of the best in a decade. The average grade from early drilling at Fourmile has shown results above the average 11.4 g/t gold grade of nearby Goldrush. There is still no resource declared for Fourmile at this stage, whereas Goldrush is around 11-million ounces at present.
Barrick's average cost for finding new gold ounces is only $25/oz for its entire reserve base.
"The future is bright and no doubt there's a new generation of discoveries to be made," Dushnisky declared.