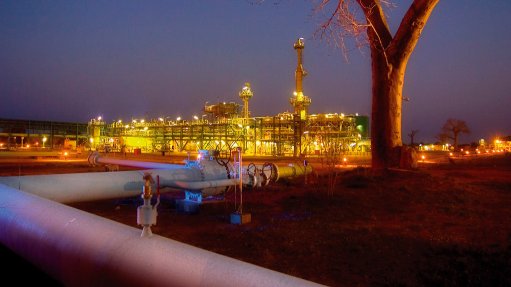 The $200-million 'loop line 1' project to expand the capacity of the gas pipeline from Mozambique to South Africa has been completed, the Republic of Mozambique Pipeline Investments Company (Rompco) has confirmed. Rompco is the gas transport joint venture set up in 2004 by JSE-listed energy and chemicals group Sasol and the governments of Mozambique and South Africa.

The project involved the laying of a pipeline in parallel to the existing 865 km mainline, which runs from the recently expanded central processing facility in Temane, Mozambique, to Secunda, South Africa.

The 128 km loop line had raised the yearly capacity of the Mozambique-to-Secunda pipeline system from about 170 MGJ to around 188 MGJ, with the Ressano Garcia energy hub, on the Mozambique side of the border, to absorb much of the additional gas.
Further expansions were also being planned to address the fast-growing Southern African country's increasing demand for energy – electricity demand was estimated to be growing by about 14% a year.
Sasol was already a partner in a 175 MW gas-fired power plant in the southern town of Ressano Garcia. But it had also initiated a gas-to-liquids prefeasibility study together with Eni, of Italy, and Empresa Nacional de Hidrocarbonetos (ENH), in the north. Eni operated a block called Area 4 in the deep waters of the Rovuma basin, which was estimated to hold up to 85-trillion cubic feet of gas.
Rompco MD Louis Bosch said the project had involved two-million working hours and had been executed in the absence of any significant safety incident. During the construction phase, the project created employment opportunities for more than 840 Mozambicans living in close proximity.
Most of the additional gas would be used at the Ressano Garcia energy hub, in Mozambique, which houses the Central Térmica de Ressano Garcia gas-to-power facility, the Matola Gas Company and ENH.
The expansion would enable the generation of more than 400 MW of electricity within the hub, and Rompco described the investment as a "milestone" in the further "in-country monetisation" of Mozambique gas.