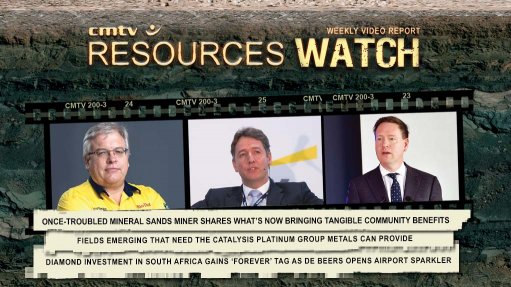 Welcome to Creamer Media's Resources Watch, a weekly video round-up of the events and people making and shaping the news in the mining industry.
This week:
Once-troubled mineral sands miner shares what's now bringing tangible community benefits
Fields emerging that need the catalysis platinum group metals can provide
And, Diamond investment in South Africa gains 'forever' tag as De Beers opens airport sparkler
Rio Tinto group's Richards Bay Minerals revealed the results of independent research commissioned to benchmark what works for community trusts and conversely what fails.
Rio Tinto Iron-Ore and Titanium African operations MD Werner Duvenhage
A wide range of industries, which require considerable production volumes that platinum group metals can help to provide, are being developed and ramped up, such as in the production of ammonia, methanol or e-fuels.
SFA Oxford CEO Henk de Hoop:
De Beers' new CEO stated at the opening of the company's latest diamond investment that the company is honoured to still be "actively" investing in the future of South Africa, and it is also doing so "confidently".
De Beers CEO Al Cook:
For mining news as it breaks, stay logged onto Mining Weekly.com and register for our free daily newsletter.