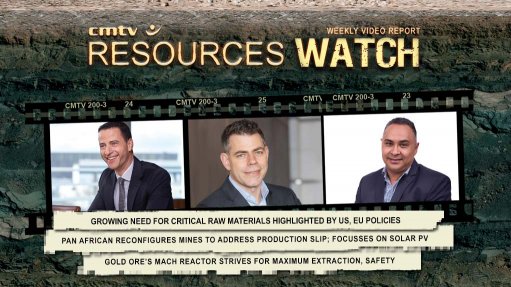 Welcome to Creamer Media's Resources Watch, a weekly video round-up of the events and people making and shaping the news in the mining industry.
This week:
Growing need for critical raw materials highlighted by US, EU policies
Pan African reconfigures mines to address production slip; focusses on solar PV
And, Gold Ore's MACH Reactor strives for maximum extraction, safety
Recent government policies, such as the US's Inflation Reduction Act and the European Union's proposed Green Deal Industrial Plan, demonstrate the growing need for critical raw materials through to the end of the decade and beyond, necessitating fresh investment in both primary supply and recycling.
Glencore CEO Gary Nagle:
Midtier gold producer Pan African Resources produced 92 307 oz of gold for the six months to December 31, 2022 – down 14.6% year-on-year, following the record gold production achieved in the six months to December 31, 2021.
Pan African CEO Cobus Loots:
It is "time to shake up the status quo" and strive for maximum extraction and safe disposal of ore, says private metallurgical company Gold Ore, which states that if extraction losses could be reduced to close to zero, "the re-mining of tailings dams could be prevented altogether.
Gold Ore Founder and CEO Adrian Singh:
For mining news as it breaks, stay logged onto Mining Weekly.com and register for our free daily newsletter.