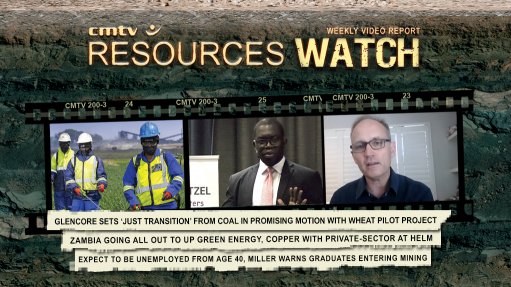 Welcome to Creamer Media's Resources Watch, a weekly video round-up of the events and people making and shaping the news in the mining industry.
This week:
Glencore sets 'just transition' from coal in promising motion with wheat pilot project
Zambia going all out to up green energy, copper with private-sector at helm
And, Expect to be unemployed from age 40, Miller warns graduates entering mining
Glencore has set the 'just transition' in promising motion with a highly successful winter wheat pilot project in Mpumalanga.
Business for Development director Africa operations John Cook:
Zambia has pledged to be private-sector driven, surge into green energy, and do everything it can to regain the top spot in global copper at a time when the metal is set to play such a key role in the fight against climate change.
Zambia Commerce Trade and Industry Minister Chipoka Mulenga:
Because of the collapse of investment in greenfields exploration in South Africa, any mining graduate entering the profession today can expect to be unemployed from the age of 40, said AmaranthCX director and founder Paul Miller.
AmaranthCX director Paul Miller:
For mining news as it breaks, stay logged onto Mining Weekly.com and register for our free daily newsletter.