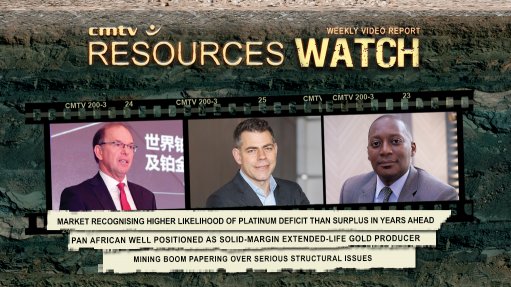 Welcome to Creamer Media's Resources Watch, a weekly video round-up of the events and people making and shaping the news in the mining industry.
This week:
Market recognising higher likelihood of platinum deficit than surplus in years ahead
Pan African well positioned as solid-margin extended-life gold producer
And, Mining boom papering over serious structural issues
Right now, the market is recognising the higher likelihood of platinum being in deficit rather than in surplus in the mid-term years ahead, said World Platinum Investment Council.
World Platinum Investment Council research director Trevor Raymond
Pan African has had an outstanding 2021 financial year to June 30; profit rose 68% to a record of close to $75-million and a record dividend declaration has been recommended.
Pan African CEO Cobus Loots
South Africa's current mining boom is papering over some very serious structural issues that underlie the mining industry as a whole.
Nedbank mining lead Vusi Mpofu
For mining news as it breaks, stay logged onto Mining Weekly.com and register for our free daily newsletter.