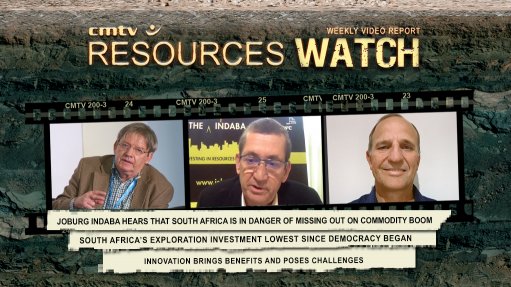 Welcome to Creamer Media's Resources Watch, a weekly video round-up of the events and people making and shaping the news in the mining industry.
This week:
Joburg Indaba hears that South Africa is in danger of missing out on commodity boom
South Africa's exploration investment lowest since democracy began
And, Innovation brings benefits and poses challenges
A much more enabling environment is needed to ensure that South Africa does not miss out on yet another commodity boom, the Joburg Indaba heard.
IDC director and founding AngloGold Ashanti CEO Bobby Godsell:
Also mentioned at the Indaba is the fact that South Africa's mining industry is at its lowest level of exploration investment since democracy began in 1994.
Joburg Indaba chairperson Bernard Swanepoel:
Integrating technological innovation into mining industry practices can result in reduced costs, increased productivity and improved worker safety. However, it also presents an unexpected challenge.
Zest WEG's Floris Erasmus:
For mining news as it breaks, stay logged onto Mining Weekly.com and register for our free daily newsletter.