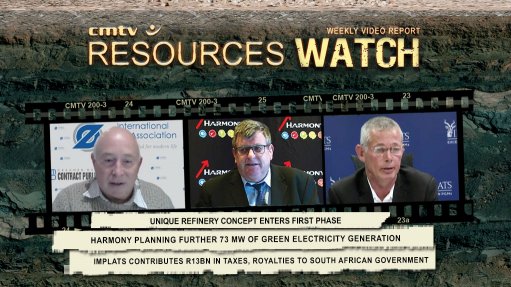 Welcome to Creamer Media's Resources Watch, a weekly video round-up of the events and people making and shaping the news in the mining industry.
This week:
Unique refinery concept enters first phase
Harmony planning further 73 MW of green electricity generation
And, Implats contributes R13bn in taxes, royalties to South African government
Global industry body the International Zinc Association says the first phase of its "bold plan" to implement South Africa's own zinc refinery has started.
International Zink Association African Desk spokesperson Simon Norton:
Harmony Gold now has a comprehensive renewable rollout plan in place for South Africa, with plans for 73 MW of green electricity generation.
Harmony Gold CEO Peter Steenkamp:
Implats has contributed about R13-billion in taxes and royalties to the South African government for the 12 months to June 30.
Implats CEO Nico Muller:
For mining news as it breaks, stay logged onto Mining Weekly.com and register for our free daily newsletter.